Kerala News Highlights: Puthuppally byelection concludes with 72.91 per cent voter turnout
Kerala News HIGHLIGHTS: Puthuppally byelection concludes with 72.91 per cent voter turnout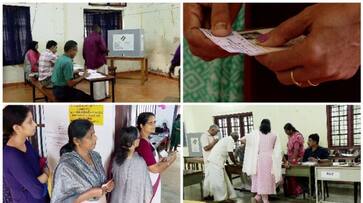 6.30 PM:  Puthuppally byelection concludes with 72.91 per cent voter turnout
---
4.00 PM: Puthuppally byelection: Polling status till 3.30 pm
Votes Polled: 107568
Men: 53776
Women: 53790
Transgender: 2
---
3.00 pm: Puthuppally byelection: Polling status till 2 pm
Percentage: 54.14 per cent
Men- 47995
Women- 47517
Transgender - 2
---
1.37 PM: Youth vandalises washroom inside Kurla-Thiruvananthapuram Express; arrested
A youth who was intoxicated vandalised the washroom of Kurla-Thiruvananthapuram Express on Tuesday at 8 am. The Railway police officials arrested the youth. Simon, a native of Karwar, Mangalore, who committed the atrocity, was taken into custody by the RPF.
---
1.30 PM: BJP state unit chief K Surendran lashes out at UDF for silently backing Udayanidhi Stalin over 'sanatana dharma' remark
---
1.25 PM: Puthuppally Byelection: Heavy turnout recorded till 12.30 pm
Percentage: 44.03%
Votes Polled: 77675
Men: 39411
Women: 38262
Transgender: 2
---
1.00 PM: Puthuppally byelection begins; 39.79 per cent voter turnout recorded till 12 noon
After five hours of polling, 39.79 percent voting has been recorded in Puthuppally constituency. 
---
11.25 AM: Puthuppally byelection: Polling status till 11 am
Total Percentage: 26.60%
Number of Votes Polled: 46928
Men: 4682
Women: 22246
Transgender: 0
---
10.25 AM: Puthuppally byelection: UDF candidate Chandy Oommen, family cast vote 
Chandy Oommen and his family cast their vote at the booth set up in Georgian Public School in the ongoing byelection in Puthuppally. Speaking to the media, Chandy said that now let the people decide the fate of the constituency.
---
10.00 AM: Puthuppally byelection: LDF candidate Jaick C Thomas confident of winning seat
LDF candidate Jaick C Thomas said, "This is a historic day for Puthuppally." He was addressing media after Puthuppally began the election at 7 am. "Personal jabs or exaltation have no place in elections. I discussed ideas for enhancing the quality of life for people in Puthuppally. I extended a courteous invitation to the UDF candidate for a talk on development. But the UDF left the conversation early," Jaick stated.
---
9.45 AM: Puthuppally byelection: LDF candidate Jaick C Thomas casts his vote in Manarcaud
---
9.45 AM: Puthuppally Byelection 2023: Polling status till 9 pm
Total Percentage: 15.36%
Votes Polled: 27099
Men: 14667
Women: 12432
Transgender: 0
---
8.30 AM:  Puthuppally bypoll update as of 8.18 AM:
Percentage: 7.32%
Number of Votes Polled: 12926
Men: 7183
Women: 5743
Transgender: 0
---
8.30 AM: Puthuppally bypoll update: As of 8.09 am:  
Percentage: 6.74%
Number of votes polled: 11905
Women: 5303
Men: 6602
Transgender: 0
---
8.25 AM: Actor Joy Mathew meets with accident; sustains injuries
Malayalam actor Joy Mathew met with an accident on Monday around 11 pm after his car collided with a pick up van. The accident happened at Chavakkad-Mandalamkunnu National Highway 66. He was rushed to a private hospital in Chavakkad after sustaining injuries.
---
8.05 AM: Late Congress veteran Oommen Chandy's name continues to be on voter's list
Former Chief Minister Oommen Chandy's name was seen as number 647 in the voter list of Georgian Public School booth number 126. Oommen Chandy's name has been cut using a pen. When a voter dies, it takes time to remove the name of the person.
---
7.50 AM: Puthuppally byelection begins; Massive crowd witnessed in 182 booths
The first election in Puthuppally in 53 years will take place without Oommen Chandy's name appearing on the ballot. The voting process started at 7 AM and will last until 6 PM. Election results will be announced on September 8. There are 1,76,417 voters in the constituency. In the first phase, a large number of people turned to the polling booths to cast their votes. 
Last Updated Sep 5, 2023, 9:01 PM IST