Kerala News Today: Fraud gang arrested in Delhi for extorting money from people under pretext of offering jobs
Kerala News Highlights: Fraud gang arrested in Delhi for extorting money from people in pretext of offering jobs.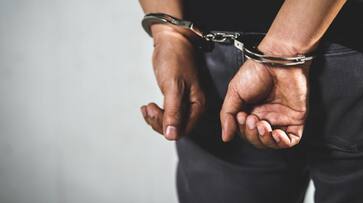 3:50 PM: Kerala: Youth on ventilator after eating shawarma from hotel in Kochi
A youth hailing from Kottayam is on a ventilator after experiencing health issues following the consumption of shawarma. The victim has been identified as Rahul. He is an employee of Kakkanad Cess in Ernakulam.
The incident happened on Wednesday (Oct 18). He ordered shawarma online. After consuming, he started feeling discomfort and was admitted to a private hospital in Kakkanad. Later on, his health deteriorated and he shifted to a ventilator. He ordered food from the Hotel Hyatt in Kakkanad. The Thrikkakkara police have started an investigation into this matter.
---
3:00 PM: Flight services suspended for 5 hours at Thiruvananthapuram International Airport
The flight services at Thiruvananthapuram International Airport will be suspended for five hours due to Alpashi Aarattu procession at Sree Padmanabha Swamy Temple. The airport authorities said that the restriction will be from 4 pm to 9 pm on Monday.
---
1.15 PM: Fraud gang arrested in Delhi for extorting money from people under pretext of offering jobs
A group that cheated and extorted money including Malayalees was arrested in Delhi. The fraud was done by offering jobs in Gulf countries and Malaysia. Seven people, including two Nepalese nationals, were arrested. Delhi Police Crime Branch said that most of the victims are people from Kerala. The accused committed the fraud through sites including Naukari.com. Rs 59,000 was charged from one person
---
12.30 PM: 9-year-old drowned in Ponnani sea 
A 9-year-old boy drowned while bathing in the sea at Ponnani, Malappuram. The deceased is Mihran who drowned while bathing in the sea with his friends. Locals who heard the children's cries found the child and took him to the hospital, but his life could not be saved
---
11.45 AM: No ownership certificate required for electricity connection for houses below 100 sq mtrs
Kerala State Electricity Board (KSEB) announced that no title deed or legal possession deed is required to get an electricity connection in domestic buildings with a floor area below 100 sq m (1076 sq ft). It is sufficient to submit the certificate along with the application on a white paper stating the following points:
1. The total floor area of ​​the building is less than 100 square meters.
2. The building is now and will be used exclusively for domestic purposes.
3. Electricity connection shall in no way constitute legal ownership or possession of the building
4. The power connection may be permanently or temporarily disconnected if the duly authorized officer requests in writing to the KSEB authority.
---
11:20 AM: INTUC workers on strike in front of KSRTC Chief Office 
The Indian National Trade Union Congress conducted a protest in front of the KSRTC Chief Office on Monday. The strike was due to a delay in the salaries of the employees. The workers stated that the government also colludes with the management for corruption.
---
10:45 AM: Third crane to be unloaded from Zhen Hua 15 Chinese ship at Vizhinjam International Seaport today
The third crane, Super Post Pana Max, is set to unload at Vizhinjam International Seaport on Monday (Oct 23). The authorities said that the process of unloading was delayed due to rough sea conditions. They also stated that if the situation is favorable today, the crane will be brought ashore.
---
10:20 AM: 80-year-old woman brutally assaulted in Kollam
An 80-year-old physically challenged woman was brutally assaulted by a man in Kollam on October 20. The lady was sleeping infront of a ship. The lady was found half-naked in a pool of bloods by the locals
---
9.40 AM: Bison valley added to Devikulam taluk
The government has issued a gazette notification completely excluding Bisonvalley village on the border of Devikulam taluk from Udumbanchola taluk and adding it to Devikulam taluk. With this, the number of villages included in Devikulam taluk has increased to 15. The number of villages in Udumbanchola taluk will be 17 from 18. According to the government, the area of ​​Devikulam taluk after including Bisonvalley village is 11,90,19.5208 hectares. 
---
9:38 AM: Severe traffic congestion at Thamarassery ghat road due to Puja holidays
A severe traffic congestion that started on Sunday continues today at Thamarassery Churam road. As holidays are continuing in Kerala, people are planning trips these days. Some people were travelling to Mysore for grand Dussehra celebrations. 
---
9.10 AM: Second crane unloaded at Vizhinjam International Seaport
The second crane brought to Vizhinjam International Seaport by the Chinese cargo ship Zhen Hua 15 was unloaded yesterday afternoon. A Super Post Pana Max crane with a weight of more than 1100 tons is now to be unloaded. If the situation is favorable today, the concerned people are estimating that this crane can also be brought ashore and the ship can return by tomorrow morning. The process of unloading the cranes at the port was delayed due to rough seas and legal hurdles for Chinese workers to get visas to land.
---
8:43 AM: Vande Bharat gets grand reception in Chengannur
Vande Bharat gets grand reception in Chengannur today (Oct 23). The train reached Chengannur station at 6.53 am and departed at 6.55 am. Meanwhile, hundreds of people received the train at Chengannur railway station with flowers and cheers. Union Minister V Muraleedharan, Kodikunnil Suresh, and others attended the reception.
---
8.15 AM: Kerala to receive widespread rainfall today; Yellow alert in 8 districts
Widespread rain is likely in the state today. A yellow alert has been issued in eight districts today due to the possibility of isolated and heavy rains.  These districts include Kollam, Pathanamthitta, Alappuzha, Kottayam, Ernakulam, Idukki, Thrissur and Palakkad. The India Meteorological Department has warned of the possibility of rain with thunder in the afternoon.
Last Updated Oct 23, 2023, 9:11 PM IST