Kerala News HIGHLIGHTS: Oommen Chandy's memorial vandalised in Parassala; CITU worker arrested
Kerala News HIGHLIGHTS: Oommen Chandy's memorial vandalised in Parassala; CITU worker arrested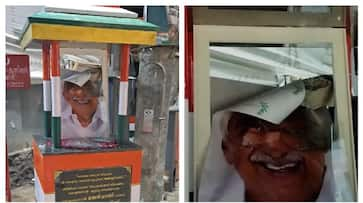 1.30 PM: Palakkad police accused of stealing 'expensive pen' from man in custody; inquiry ordered
Thrithala Circle inspector Vijayakumar allegedly stole a pen worth Rs 60,000 from Faisal, a native of Nhangattiri. Faisal was in police custody under the Kerala Anti-Social Activities (Prevention) Act, 2007 (KAAPA) in June this year. When he was arrested, the pen was neither returned to him nor entered in the general diary.
---
1.00 PM: Oommen Chandy's memorial vandalised in Parassala; CITU worker arrested
A CITU worker identified as Shaiju was arrested for allegedly vandalising the photo of late Congress veteran Oommen Chandy, installed at a memorial in Parassala on Wednesday. The accused allegedly pelted stones at the memorial. His arrest was recorded today.
---
11.30 AM: UDF candidate Chandy Oommen files nomination for Puthuppally bypoll
---
10.45 AM: Puthuppally bypoll: BJP candidate Lijin Lal to file nomination today
---
10.10 AM: Stone pelted at Vande Bharat train near Thalassery station
There have been incidences of stone pelting on trains in Kerala. On Wednesday, a stone was pelted at the Vande Bharat train near Thalassery station and broke the window of the C8 coach. However, the passengers were not injured in the incident. 
---
9.30 AM: Puthuppally bypoll: UDF candidate Chandy Oommen to file nomination today at 11 am
---
9.10 AM: Kerala govt moves HC seeking cancellation of interim bail of IG Lakshman
The Kerala government on Wednesday moved the High Court seeking to quash the interim bail granted to accused in the Monson Mavunkal fraud case, IG G Lakshman. The move comes after Lakshman skipped interrogation even after issuing notices to him.
---
8.45 AM: Kerala CM to release textbooks with syllabus removed by NCERT on August 23
On Wednesday, the Left-led government in Kerala announced that it will publish fresh textbooks that would incorporate the content that the National Council of Educational Research and Training (NCERT) had previously omitted for the 11th and 12th grades. The fresh textbooks will be released by the Chief Minister at Government HSS for Girls, Cotton Hill, Thiruvananthapuram on August 23.
---
8.33 AM: Kollam to host Kerala School Kalolsavam in January 2024
The Kerala School Kalolsavam for this academic year will take place at Kollam in January 2024. The decision was made during a gathering of teacher associations that Shanavas S, the director of general education, presided over. The State Sports Meet will be held in Thiruvananthapuram in October 2023 and Kerala State School Sasthrolsavam will be held in Thrissur's Kunnamkulam in December first week.
Last Updated Aug 17, 2023, 10:30 PM IST