Kerala News HIGHLIGHTS: Chandy Oommen organises Padayatra to thank Puthuppally people for making him MLA
Kerala News HIGHLIGHTS: In the Puthuppally byelection, UDF candidate Chandy Oommen won the seat, continuing his late father's legacy.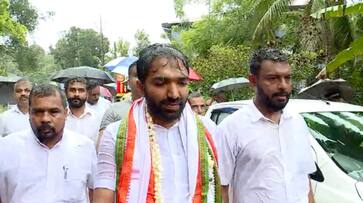 3.15 PM: Sisters death in Palakkad: Accused murdered them to steal gold, says police
According to district police chief R Anand, the murder of two sisters in Kavalappara was a case of murder. Manikandan, a 48-year-old native of Thrithala, is the accused and is currently in police custody. The accused murdered them to steal their gold ornaments said the police.
---
2.30 PM: Power tariff hike likely to increase by end of September
With an average rise of up to 41 paise per unit, Kerala is planning to increase the cost of power by September 30. The Kerala State Electricity Regulatory Commission (KSERC) will draft the proposal. Prior to it, there were indications of an imminent rate increase, but they got into legal challenges when consumers with high and extra-high tensions asked for judicial intervention to stop the KSERC from implementing the increase. The High Court has, however, granted KSERC the go-ahead. For the following four years, starting on September 30, it will determine the electricity pricing.
---
2.00 PM: Chandy Oommen organises Padayatra to thank Puthuppally people for making him MLA 
After winning the byelection with a landslide, MLA-designate Chandy Oommen began his "padayatra" to personally thank the voters. At 10 am, the padayatra started from Vakathanam Panchayat. Chandy Oommen defeated LDF's Jaick C Thomas for 37,719 votes in the bypoll in the Puthuppally Assembly constituency. 
---
1.00 PM: Car carrying smugglers falls into ditch in Koduvally
At Avilora in Koduvally, a luxury car carrying a pair of smugglers crashed into a ditch. One of them is now in the custody of the police. Police detained smuggler Anuvind, a local of Thamarassery, while the other accused, Habbeb Rahman, a native of Katharammal, escaped the scene when officers were inspecting the car. The two had thrown a packet from the car during the uproar. A team of police officers under the direction of SI Anoop Areekara found 3.5 grams of MDMA in total in the accused's wallet and at the scene of the accident.
---
12.00 PM: Massive theft in Thrissur: Robbers snatch gold jewellery from employees worth Rs 1.7 crore
After assaulting workers at a jewellery company in Thrissur, thieves stole approximately three kgs of gold, committing a significant gold robbery. The incident occurred on Friday at  11 pm. The gold was stolen from the establishment called 'DP chains' based in Thrissur.
Read More: Kerala: Massive gold heist in Thrissur; 3 kgs of gold worth Rs 1.7 crore stolen
---
11.30 AM: Wild tusker Padayappa is back in town!
After about 1.5 months, the wild tusker Padayappa was spotted on the Munnar-Udumalpet inter-state highway causing a traffic jam. Although it does not appear to be harmful at first glance, the forest department has advised the local residents to be cautious. Padayappa returned to Munnar after spending about 45 days in the inhabited area near Marayur.
---
10.15 AM: Karuvannur scam: MLA, former MP in close ties with prime accused, says ED
An MLA and a former MP have connections to the main accused in the Karuvannur bank scam, according to the Enforcement Directorate (ED), who has testified in court. According to reports, the accused also has a cordial relationship with a senior police officer. He has conducted financial transactions totaling up to 500 crores of rupees. The ED further claimed that the case's very powerful participants were threatening the case's witnesses.
---
9.30 AM: Pregnant woman sexually assaulted in KSRTC bus in Thiruvananthapuram
A pregnant woman was allegedly sexually assaulted in a KSRTC bus plying from Thiruvananthapuram to Kattakada. The accused has been identified as Pramod, a mechanic at the KSRTC Kattakada depot. According to the woman, the accused continued to touch her inappropriately despite warning him several times.
---
9.00 AM: Two men drown in temple pond in Kollam
Two men were found dead in a temple pond on Friday in a case of drowning near Ayathil in Kollam. The deceased are Giri Kumar (55) and Aniyankunj alias Chacko (54). The incident happened at a pond adjacent to Sree Karuthar Mahadeva temple at 9.30 pm.
---
8.30 AM: Monson Mavunkal case: Kerala govt suspends IG Lakshman
The Kerala Government on Friday suspended Inspector General of Police  G Lakshman for his alleged involvement in a fraud antiquities case connected to Monson Mavunkal.
---
8.10 AM: Tanur custodial death: Kerala HC hands over case to CBI
The Kerala High Court on Friday directed the CBI to take over the investigation into the alleged custodial death of Malappuram native Thamir Jiffri. He was taken into custody by the members of DANSAF (District Anti Narcotic Special Action Force) under the suspicion of possessing narcotic drugs.
---
7.44 AM: Widespread rainfall expected in state today; IMD issues yellow alert in 11 districts
The India Meteorological Department (IMD) has predicted heavy rainfall in central and northern districts of Kerala today. Widespread rainfall is also expected in isolated places. The weather department has sounded a yellow alert in 11 districts including Alappuzha, Kottayam, Ernakulam, Idukki, Thrissur, Palakkad, Malappuram, Kozhikode, Wayanad, Kannur and Kasaragod.
Last Updated Sep 9, 2023, 5:08 PM IST