Kerala: Massive gold heist in Thrissur; 3 kgs of gold worth Rs 1.7 crore stolen
A gold establishment in Thrissur, 'DP chains', was targeted by robbers who stole 3 kgs of gold on Friday (Sep 08) at 11 pm. The robbery took place while they were transporting jewellery to local jewellers in Kanyakumari.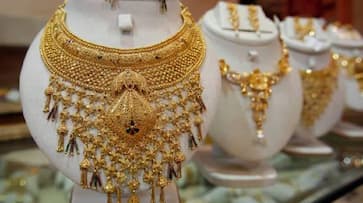 Thrissur: After assaulting workers at a jewellery company in Thrissur, thieves stole approximately three kgs of gold, committing a significant gold robbery. The incident occurred on Friday at  11 pm. The gold was stolen from the establishment called 'DP chains' based in Thrissur.
Also read: Asianet News Exclusive: Experience certificate scandal hits Kerala Police band
According to reports, on Friday night, when workers left the factory for the railway station, a gang of people in a white car struck them and stole a suitcase carrying priceless jewellery. The workers were taking three kilograms of jewellery to local jewellers in the Kanyakumari region. The team that arrived in the car snatched the bag being carried by Rinto, a native of Kallur, and Prasad, a native of Aranattukara, employees of the jewellery. The statement given by both of them said that the group that arrived in a white Desire car stole the jewellery.
Once a week, the jewellery would be transported by train from Chennai to Egmore. The authorities came to the conclusion that those responsible for the robbery knew this. The Thrissur East Police have begun an investigation.
The distance between the train station and the factory is about 500 metres. The thieves may have kept a careful eye on the employees' movements and were aware of their departure times, according to police speculation. They are reviewing city CCTV footage. Police are questioning staff members and listening to call recordings for possible leads.
Last Updated Sep 9, 2023, 1:03 PM IST