Kerala: First central PSU Hindustan Insecticides Limited shuts down
The state's first central public sector undertaking, Hindustan Insecticides Limited, was sealed on Tuesday( Oct 10). Hindustan Insecticides Limited is known for the production of pesticides and chemical fertilizers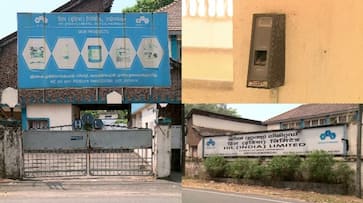 Ernakulam: The state's first central public sector undertaking, Hindustan Insecticides Limited, was sealed on Tuesday( Oct 10). Hindustan Insecticides Limited is known for the production of pesticides and chemical fertilizers. The factory has been running at a loss for the past few years. The company, which employed more than 1500 workers, has only 44 workers now.
The unit that had been established on April 24, 1958, officially closed its operations on October 10. The closure was initiated by the head office of the company in New Delhi, which issued an order stating that the board of directors had approved the shutdown of all plants in Udyogamandal, Kerala, and the Bathinda unit in Punjab, belonging to HIL (India) Ltd. The decision to close these units came after a recommendation by NITI Aayog, following the directive from the Department of Public Enterprises.
A letter from the company's head office in New Delhi stated, "The board (of directors) has approved the closure of operations of all the plants at Udyogamandal and the Bathinda unit of HIL (India) Ltd on or before 10.10.2023 (October 10). Consequently, the unit heads of Udyogamandal and Bathinda units may initiate action for the closure of the units."
The trade union leader has suggested that the state government should step in and assume control of HIL's Udyogamandal unit to revive its operations. Previously, the state government had acquired other central Public Sector Units (PSUs) in Kerala, including Hindustan Newsprint Ltd in Velloor (now known as Kerala Paper Products Ltd) and BHEL-Electrical Mechanics Ltd in Kasaragod (now operating as KEL-EML).
Last Updated Oct 11, 2023, 1:40 PM IST