Kerala CPI(M) leaders bicker over Hijab, one feels Muslim women must thank party
CPI(M) state council member K Anil Kumar stirred controversy during a litmus programme in Thiruvananthapuram that if Muslim women are not wearing hijab, it is the development of the party.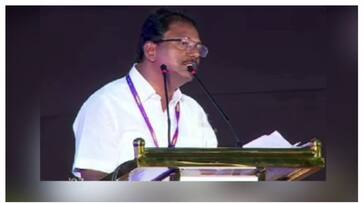 Malappuram: A Communist Party of India (Marxist) (CPIM) leader in Kerala courted controversy after he commented on the hijab-wearing women in the state. CPI(M) state council member K Anil Kumar during a litmus programme conducted by Essence Global said that the Muslim girls' removal of headscarves or hijab in Malappuram is the development of the CPI(M). Anil Kumar also said that if Muslim women are not starving, they should thank the Communist Party. 
His statements have stirred controversy within the party and several Muslim organisations have slammed the CPM leader's remarks. The event was held at Nishagandhi Auditorium in Thiruvananthapuram.
CPI(M) state general secretary M V Govindan rejected Anil Kumar's statement and said that everyone has the democratic freedom to wear what they want. He said that the party's position is that no one should interfere in it.
CPM MLA KT Jaleel clarified that the statements made by Anil Kumar are personal and he strongly rejected the practice of portraying an individual's perspective as the party's position. Jaleel's Facebook post includes a picture of the left-leaning Thiruvananthapuram Corporation councillor and claims that not wearing a headscarf is not a sign of advancement. Jaleel also said that Anil Kumar's words should be rejected like KM Shaji's remarks against Veena George.
Samasta leader Abdu Samad Pookottoor also claimed that the CPM's double standard in favour of vote-bank politics had come to light. The CPM, which sided with Muslim organisations while ignoring the opposition on the Waqf and gender equality issues, may suffer as a result of Anil Kumar's remarks.
Anil Kumar's claim cannot be taken as a stand-alone remark, according to former MLA and Muslim League member KM Shaji. He alleged that the CPI(M) has two politburos, one for informing the media and the public decisions of the party and another committee for secret agendas. "Now a mistake has happened that one of these plans which are being implemented in secret has been unknowingly revealed. The Marxist party has prepared two teams to go among the rationalists and speak against the believers and to participate in the meetings of the believers and praise them," he said.
Last Updated Oct 3, 2023, 6:53 PM IST