Kerala CM, ministers to use luxury bus worth Rs 1.05 crore for state-wide yatra
The finance department of Kerala has released Rs 1.05 crore for a luxury bus for the Chief Minister and his cabinet ministers to utilise during the state-wide Nava Kerala Sadas. The bus is reportedly being brought from Bengaluru.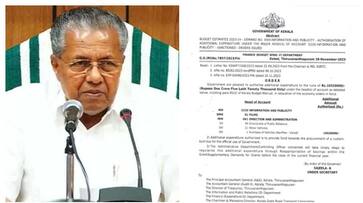 Thiruvananthapuram: In order to purchase a new bus from the Benz company for the chief minister and his cabinet colleagues to travel throughout the state to take part in the 36-day Nava Kerala Sadas, which begins on November 18 at Manjeshwar in Kasaragod, the finance department has released Rs 1.05 crore.
Even though Kerala is in dire financial shape, the state intends to hold "Nava Kerala Sadas" in all its splendour, just days after spending crores to host the Keraleeyam event.
Also read: Kerala CM's Yatra: Motor Vehicles Department forcing owners to run free private buses for Nava Kerala Sadas?
After making the required modifications, the bus will arrive in Kasaragod on Saturday. The finance department processed the request from the KSRTC MD on behalf of K SWIFT for providing Rs 1,05,20,000 for the purchase of a new custom-built bus in little time at all, despite a treasury restriction on fund release.
According to reports, the bus has a bio-toilet, fridge, and a special area near the driver with a spotlight for the Chief Minister to see the people. However, a confirmation regarding these facilities is yet to be received. 
The Opposition has accused the government of extravagant purchases when the state is reeling under a severe financial crisis. 
However, allegations that the government is purchasing a luxurious bus were refuted by Transport Minister Antony Raju. He stated that tourists will be able to utilise the bus in the future. The goal of the action is to avoid needing extra pilot vehicles and security guards for every minister throughout the function.
 
Last Updated Nov 16, 2023, 10:03 AM IST