Kerala CM's Yatra: Motor Vehicles Department forcing owners to run free private buses for Nava Kerala Sadas?
The Kerala Motor Vehicles Department (MVD) is alleged to have pressurised the owners of the private buses to provide free services during the LDF government's Nava Kerala Sadas. However, MVD has denied that they have not forced but only requested.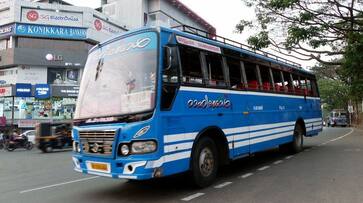 Kozhikode: The Nava Kerala Sadas initiative by the Kerala government appears to be stirring up controversy before it has even begun. The Motor Vehicles Department (MVD) has reportedly asked private bus owners to provide their buses for free to transport people to the event. The Bus Operators Organization said that they would not release the bus without paying the rent.
Also read: Kerala man ends life over Life Mission house delay
The responsibility of providing transport facilities for the Nava Kerala Sadas has been given to the officials of the Motor Vehicles Department in the respective districts. The vehicles should be arranged as and when required by the nodal officers. The allegation is that the Motor Vehicle Department officials are putting pressure on the owners to release private buses free of cost for various purposes including transporting officials on the days of the event. According to the owners, sixty buses have been requested for the four-day event in Malappuram district.
According to the bus owners, if private buses are provided free of cost for Nava Kerala Sadas that lasts for several days, they will incur a loss from Rs 10,000 to Rs 20,000. The bus owners also alleged that they have not received the money they ran for the police in the last assembly elections.
They will not receive insurance coverage even in the case of an accident once the bus is released for the event. The owners believe that only if the authorities request it in writing will it be sufficient to release the buses. Simultaneously, the Motor Vehicle Department authorities stated that nobody was coerced and that the buses were requested as a service.
The Nava Kerala Sadas is a People's Platform to be attended by the Chief Minister and ministers in 140 constituencies from November 18 to December 24.
 
Last Updated Nov 13, 2023, 12:15 PM IST