Karuvannur bank fraud case: ED to submit first chargesheet today in Kochi court
The Enforcement Directorate will submit the first chargesheet in connection with the Karuvannur Cooperative Bank fraud case on Wednesday (Nov 1). The chargesheet has named 50 persons as accused in the case.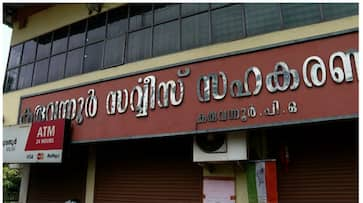 Kochi: The Enforcement Directorate (ED) will submit the first chargesheet in the Karuvannur Cooperative Bank fraud case on Wednesday (Nov 1). The 12,000-page chargesheet will be submitted at a special PMLA court in Kochi in the afternoon. The chargesheet has named 50 people as accused. According to the chargesheet, a large amount of black money transactions have taken place in Karuvannur Bank. The ED has named Satheeshkumar as the prime accused and other accused include, the middleman PP Kiran, CPM leader PR Aravindakshan and CK Jilse, the senior accountant of Karuvannur Bank.
Also read: Cooperative bank fraud not limited to Karuvannur, but across Kerala: MoS Rajeev Chandrasekhar
In order to deny statutory bail to P P Kiran and Satheesh Kumar, the main accused, the chargesheet has been filed. If the chargesheet is not filed within two months of the arrest, they will be eligible for bail.
The ED stated that a black money transaction of Rs 90 crores has been detected and the investigation is also happening in the high-ranking positions in the case. The ED has so far confiscated property worth Rs 87.75 crore. Bank deposits and other assets of persons involved in money laundering in the Karuvannur bank fraud case have been confiscated.
The ED has found that these accused are the masterminds behind the fraud and with the knowledge of the bank management committee and the political leadership, a black money transaction of around Rs 180 crores took place.
The chargesheet will list the names of those directly involved in the fraud, such as bank directors, illicit borrowers, and staff members. Only the subsequent chargesheet round will include the identities of the political figures implicated in the fraud.
Over a ten-year period, from 2011 to 2021, the CPM-controlled Karuvanannur Service Cooperative Bank in Thrissur approved several loans to the same individuals, loans without sufficient mortgages, and loans to ineligible members. A small group of workers also embezzled money from the cooperative society through monthly deposit plans, or "chit funds." According to Sreekala E S, the bank's current secretary in charge, as of December 31, 2022, 90 willful defaulters owed the bank Rs 343 crore.
Also read: Karuvannur bank scam: ED records arrest of CPM councillor P R Aravindakshan
 
Last Updated Nov 1, 2023, 11:50 AM IST