Karnataka bandh over Cauvery row: Many flights cancelled, buses blocked in Dharwad
A Karnataka Bandh, supported by numerous pro-Kannada and pro-farmer organizations, disrupts daily life amid the Cauvery water dispute. Protests and disruptions are reported in cities like Kolar, Mandya, and Dharwad, leading to flight cancellations. However, the Kodagu district remains relatively unaffected, and critics question the effectiveness of such statewide bandhs.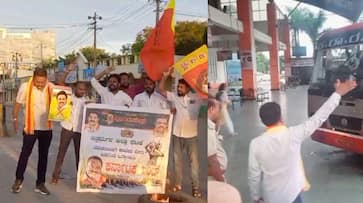 A Karnataka Bandh has been called by numerous pro-Kannada and pro-farmer organizations, boosting the Cauvery water dispute in the state. The bandh, scheduled from 6 a.m. to 6 p.m., has garnered support from over 1900 organizations, which will disrupt daily life.
Kolar: protesters have organized a bike rally, commencing from the KSRTC bus stand circle in the city. They've urged drivers and conductors to participate in the bandh. The bike rally is set to traverse multiple city areas, including Meke Circle, MG Road, and Doomlight Circle.

Karnataka bandh: What all services are open and closed?; check details
Mandya: The members of Kasturi Karnataka Janapara Vedike are protesting with Injured hands. They attempted to provide first aid to an injured protester, Srinivas, who refused to go to the hospital. The police have cautioned against engaging in violent protests and advised peaceful participation.
Dharwad: Farmers in Dharwad have staged a protest by blocking buses at Jubilee Circle in the city. They have disrupted vehicles arriving from Dandeli - Haliyal.
Additionally, the Karnataka shutdown has resulted in the cancellation of 44 flights arriving at and departing from Kempegowda International Airport in Bangalore. Flights to and from Delhi, Mumbai, Kolkata, and various other destinations have been affected by the bandh.

Karnataka bandh: Schools, colleges shut; Cabs, autos go off roads
No bandh in Kodagu?
The state-wide bandh, called to protest the release of Cauvery water to Tamil Nadu, will only see protests in Kodagu district, the source of the Cauvery River. Aside from the activists planning a protest in Kushalanagar, no other organizations have expressed their support for the bandh. Schools and colleges will not have a holiday as there is minimal backing for the bandh, ensuring that daily life remains unaffected.
Critics argue that calling a state-wide bandh is unlikely to resolve such complex issues. Instead, it will primarily affect labourers, daily wage workers, and the general public. The activists have been actively advocating for the Cauvery issue across various regions in Karnataka.
Last Updated Sep 29, 2023, 9:59 AM IST