Janmashtami 2023: A spectacular Sadya by 300 expert chefs await devotees in Aranmula
Kerala's biggest and most anticipated Ashtamirohini Vallasadya will be held today at 11 am at Aranmula, Pathanamthitta. A vibrant kind of sadya will be prepared for the devotees under the expert supervision of 300 chefs.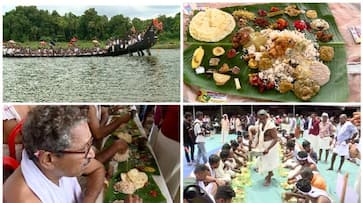 Pathanamthitta: The historic Aranmula Ashtamirohini Vallasadya will be held today at Arunmula, Pathanamthitta. Many people, including Palliyoda Seva Sangh and devotees will participate in the feast which starts at 11 am. 
Sadya will be serving in the temple courtyard and in the food corridors (Ootupura).The meal is prepared under the leadership of around 300 expert chefs.The biggest feature of Aranmula Vallasadya is that the Vallasadya is served with sixty-three variety dishes. 
The feast of Aranmula Vallamkali, which includes numerous rituals and traditions, is celebrated by devotees in large numbers. First, permission must be obtained from the temple to conduct the procession. After obtaining permission, the procession organizers will begin their preparations. On the day of Vallamkali, those responsible for the procession will reach the temple early in the morning.
These devotees will be divided into two groups, one for the deity at the temple and the other for the boat. Each group will follow specific customs and rituals associated with their respective roles. First, they will start their journey in boats.
They will sing devotional songs and hymns as they make their way to the temple near the Pampa river. The offerings to the temple, such as lamps, musical instruments, and flowers, will be carried by the procession participants. There will be no priests present during this part of the ceremony; it is entirely organized by the devotees.
Following these rituals, they will carry the boat and the deity on a procession to the main temple. After reaching the temple premises, the devotees will hand over their pearl umbrella and a paddle to Aranmula Thevar. Afterward, they will proceed to the Ootupura (a particular place) for lunch. Even after reaching Ootupura, the ceremony does not end. Dishes are asked for by singing each song.
After the feast, they reach under Kodimaram (pillar infront of temple) and after offering praise to the Lord, they turn over the 'para' which has been filled earlier.
All these rituals and offerings will be done by the procession participants themselves, without the presence of priests. Finally, after the feast, they will return to their homes.
Last Updated Sep 6, 2023, 9:29 AM IST