Isha Gramotsavam: Union sports minister Anurag Thakur applauds its role in breaking caste barriers
Against the magnificent backdrop of the 112-feet Adiyogi, the finale witnessed players showcasing their remarkable rural skills. An international audience gathered to cheer, whistle, and closely observe as players competed for the championship trophy.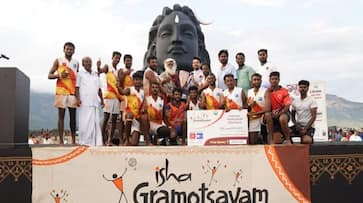 During the culmination of Isha Gramotsavam at the Adiyogi, Isha Yoga Center in Coimbatore, Union Minister Anurag Thakur expressed his satisfaction with the profound impact of the event on rural communities. He highlighted how Isha Gramotsavam has contributed to positive social transformations, including overcoming addictions, breaking caste barriers, empowering women, and revitalizing the resilient spirit of rural India.
Launched by Sadhguru in 2004, this social initiative is dedicated to infusing the spirit of sports and playfulness into the lives of rural residents. The momentous occasion featured the presence of the minister, Sadhguru (Founder-Isha Foundation), popular Tamil actor Santhanam, and former Indian Hockey Captain Dhanraj Pillay.
"The wonderful initiative undertaken by Sadhguru celebrates rural sports and culture like none other.... Isha Gramotsavam started way back in 2004 aiming to bring health, prosperity, and well-being to the rural masses, and I could see the sports persons here, some of them work as laborers, agriculturalists, and fishermen, but I could see the competitive spirit in them," observed Shri Thakur.
Against the magnificent backdrop of the 112-feet Adiyogi, the finale witnessed players showcasing their remarkable rural skills. An international audience gathered to cheer, whistle, and closely observe as players competed for the championship trophy.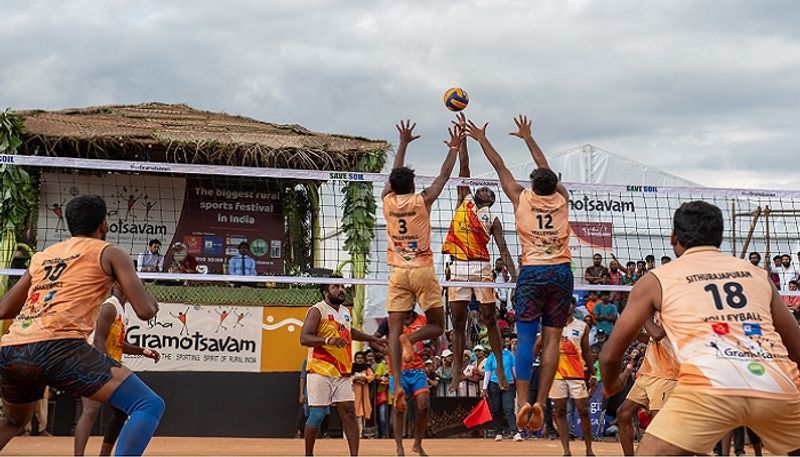 Speaking at the event, Sadhguru emphasized, "Celebration is the basis of life, and it is possible only when you are playful. So, it's fantastic to see that across 25,000 villages, over 60,000 players, and hundreds of thousands of spectators in those villages, all at some point not knowing what they were doing, they would have jumped, screamed, yelled, laughed, and cried. This is what is needed to make life happen."
Highlighting the importance of incorporating playfulness into life, Sadhguru suggested, "Our minister was saying, you must play some game. I don't know what your conditions are. You live in an apartment building or somewhere. Well, you can at least throw a ball at each other. If you don't have a ball, throw an onion. If an onion is too expensive, throw a potato—something to make life playful."
Kumari, the captain of the Anandapuram Throwball team from Andhra Pradesh, shared her Gramotsavam journey, stating, "Initially, our families were unsupportive of us playing, but reaching the finals changed their perspective, turning them into our biggest cheerleaders. Our team, usually entangled with daily chores and work, practices every night. One teammate even left her three-month-old baby to participate in the finals! Being here is a dream realized, and we owe immense thanks to the Isha volunteers who've stood by us—from training to traveling to Coimbatore."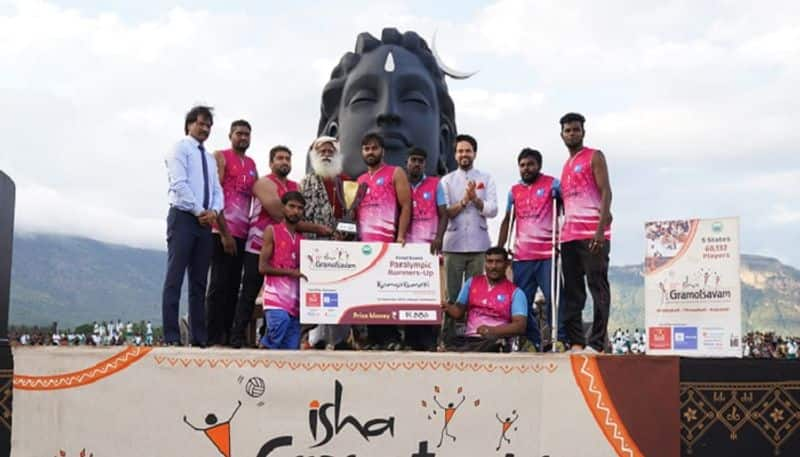 The final matches of Isha Gramotsavam lived up to their reputation, captivating the audience throughout. Uthamasolpuram, Salem emerged victorious in Volleyball, defeating FEC Sithurajapuram, while PG Pudur, Coimbatore clinched the championship trophy in Throwball, with Black Panther from Maragodu, Karnataka securing the second position. In Women's Kabaddi, the Erode team emerged victorious over the Dindigul team, and in the Paralympics category, Coimbatore Para Volleyball Association prevailed over Kumari Kings, Kanyakumari.
Congratulating the winners, Sadhguru expressed his thoughts on social media, saying, "Congratulations to all #IshaGramotsavam participants, spectators & volunteers for re-creating the celebratory spirit so integral to rural Bharat. It is only through celebration that we can keep alive the richness of our heritage. May Gramotsavam reignite and strengthen community spirit in every village of Bharat. Blessings. -Sg"
This sporting extravaganza, which commenced in August, unfolded in the southern states of Tamil Nadu, Andhra Pradesh, Telangana, Karnataka, Kerala, and the Union Territory of Puducherry. Played in over 194 rural locations, Isha Gramotsavam inspired the participation of 60,000 players, including over 10,000 rural women, most of whom are homemakers, in events such as Kabaddi and Throwball.
Distinguished by its unique format, Isha Gramotsavam is designed for non-professional players, offering an opportunity for everyday rural individuals—ranging from daily wage earners to fishermen and housewives—to break free from their daily routines and embrace the celebratory and unifying power of sports.
Isha Outreach, the organizing body behind Isha Gramotsavam, has received recognition as a National Sports Promotion Organization (NSPO) from the Ministry of Sports & Youth Affairs. Over the years, prominent sports figures like Sachin Tendulkar, Olympic medalist Rajyavardhan Singh Rathore, and Karnam Malleswari have graced the event as special guests. Notable athletes including Mithali Raj, PV Sindhu, Virender Sehwag, Shikhar Dhawan, and Javagal Srinath have also voiced their support for Isha Gramotsavam.
Last Updated Sep 24, 2023, 3:34 PM IST