Independence Day 2020: COVID-19 not big enough to beat India's resolve for Atmanirbhar Bharat, says PM Modi
PM Modi's address at 74th Independence Day was for almost 90 minutes. Focus on self-reliant India, economy and warning to those who attempted to challenge India's sovereignty. "Coronavirus can be a hindrance but can't beat India's resolve for Atmanirbhar Bharat," he said.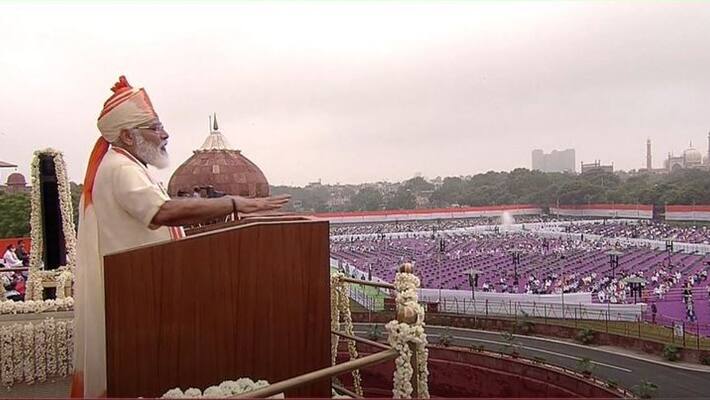 New Delhi: India is celebrating its 74th Independence Day on Saturday. Prime Minister Narendra Modi visited the Rajghat and paid tributes to Mahatma Gandhi as the celebrations started. The prime minister then proceeded to the Red Fort where he remembered those who laid their lives for India's Independence.
PM Modi then unfurled the Tricolour flag at the ramparts of Red Fort, on the occasion of 74th Independence Day in Delhi.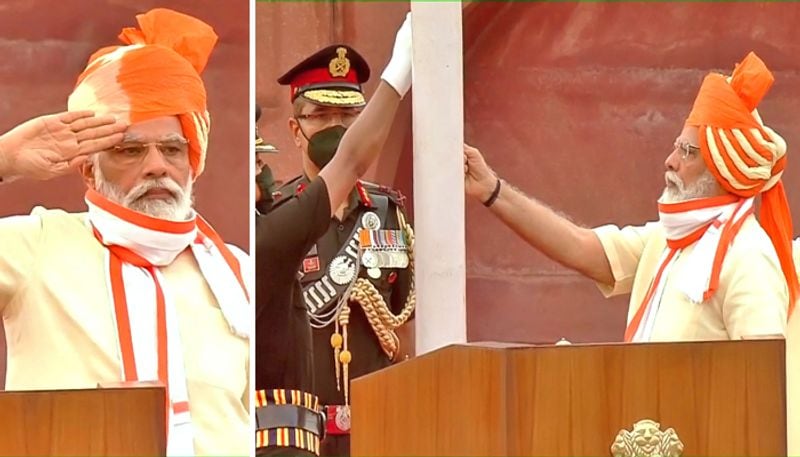 In his address to the nation on the occasion of India's 74th Independence Day, Prime Minister Narendra Modi Saturday praised those who were working relentlessly to defeat the novel coronavirus.
He said India was going through a unique phase due to the pandemic, but would achieve victory thanks to the resolve of the people. PM Modi highlighted the importance to make India self-reliant, saying it was not just a word but should be a "mantra" for the people.
Paying his tributes to freedom fighters and COVID-19 warriors, PM Modi said, "today is the day to express our gratitude to the security forces protecting the nation."
He added, "I salute the corona warriors who have worked relentlessly for the nation. I bow to them. I extend my condolences to families that have lost loved ones in this battle against coronavirus. We are going through a unique situation because of the coronavirus pandemic and hail 'corona warriors'. I am confident that 130 crore Indians will fight and defeat this virus."
Also read: PM Modi unfurls Tricolour flag at Red Fort, addresses nation (pics)
PM Modi also paid condolences to the parts of the country facing natural calamities and disasters and reassured fellow citizens of full support in this hour of need.
"Amid COVID-19 pandemic 130 crore Indians took the resolve to be self-reliant and 'Aatmanirbhar Bharat' is on the mind of India. This dream is turning into a pledge. 'Aatmanirbhar Bharat' has become a 'mantra' for the 130 crore Indians today."
"I believe in the capabilities of our youth, our women, our thinking and approach, says PM Modi as he speaks about the need to build an 'Atmanirbhar Bharat'. Today, the whole world is interconnected and interdependent. It's time for India to play an important role in the global economy. For this, India has to become self-reliant. Mindset today should be 'vocal for local'," he stated.
Prime Minister Narendra Modi said that India's mantra must be Make for World. "Today, many big companies are turning towards India. We have to move forward with the mantra of 'Make for world' along with 'Make in India'," he said.
Also watch: Independence Day Exclusive: The Indian Army officer and his wife who join forces to serve the nation
PM Modi talked about the National Education Policy. "Education has a key role in the making of Aatmanirbhar, modern, new and prosperous India. So, we have brought the new education policy after three decades that has been welcomed throughout the country, which instils new confidence."
He also announced National Digital Health Mission, said it will bring a revolution in India's health sector. He said every Indian will now get a health ID.
PM Modi stressed on various topics such as One World, One Sun, One grid; reconsidering minimum age for marriage of our daughters, National Education Policy, Agriculture infrastructure fund of Rs 1 lakh crore, equal opportunities of self-employment and employment to women and assured that 6 Lakh villages will get Optical Fibre network in the coming 1000 days.
Assembly elections in Jammu and Kashmir, special campaign being worked out to reduce pollution in 100 selected cities, he stated.
Also read: Independence Day 2020: 10 significant moments of August 15, 1947
PM Modi said, "Today our neighbour is not just the one with whom we share a border but also those with whom our heart stays connected, where there is harmony in relations. I'm happy that in the past some time India has further strengthened its relations with all countries in 'extended neighbourhood'."
Talking about the India-China Faceoff, PM Modi said no one can challenge India's sovereignty.
"From LoC to LAC, whoever tried to raise their eyes towards the sovereignty of our country, our soldiers responded to it in the same manner," the PM adds.
Addressing the issue of coronavirus, he said, "Our roadmap to bring coronavirus vaccine to all Indians in the shortest possible time is ready. Three corona vaccines are in various stages of trial in India; large-scale production will begin once we get a nod from scientists."
Also read: Do you know why August 15 is special for Republic of the Congo?
He further said, "In this decade of the 21st century, India will now have to move forward with new policy and new customs. Our policies, our processes, our products, everything should be best. Only then will we be able to realize the vision of 'Ek Bharat Shreshtha Bharat'."
PM Modi thanked all nations who extended help to India during her struggle with coronavirus.
Seventy-three years of independence from the British rule was celebrated in a subdued manner due to the coronavirus crisis. The Independence Day ceremony at the Red Fort was attended by over 4,000 people, including diplomats, officials and media personnel. Safety protocols were in place for the event, including social distancing and wearing masks.
PM Modi concluded his speech with chants of 'Vande Mataram'. 
Last Updated Aug 15, 2020, 9:29 AM IST