Heavy rains lash Chennai; downpour may continue for 3 more days
An easterly wave trough is expected to bring intense rainfall to several districts, and the weather system may lead to sporadic rain with intervals of sunshine. Coastal areas may experience intermittent rainfall.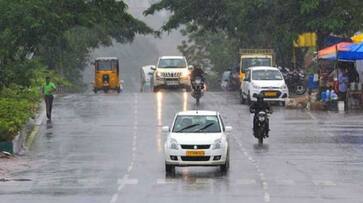 Tamil Nadu continued to receive heavy rainfall on Saturday, with forecasts of continued showers for the next three days. The unexpected downpour on Friday had disrupted the routines of office-goers and students. South Chennai experienced flooding during peak hour traffic due to continuous rain lasting over an hour and a half. In response to the heavy rainfall predictions, Chennai district administration declared a school holiday for the capital city. Since October 1, the region has received 12 cm of rainfall during the ongoing Northeast Monsoon, which is 40 per cent below the usual 19 cm.
The Regional Meteorological Centre in Chennai expects the rainy spell to persist until November 7, gradually diminishing in intensity. The India Meteorological Department (IMD) issued an orange alert for Tamil Nadu, warning of heavy rainfall in specific districts on Saturday.
An easterly wave trough is set to trigger intense rainfall in various districts, including Coimbatore, Kanniyakumari, Thoothukudi, and Ramanathapuram on Saturday, with rainfall expected between 11.5 cm and 20.4 cm. Additionally, around 13 districts, including those in delta regions, may experience heavy rainfall of up to 11.5 cm in certain areas on Saturday.
While Saturday anticipates light to moderate rain in most places, Sunday may witness more widespread rain, albeit covering fewer regions. Over the past 24 hours, both southern and northern Tamil Nadu received significant rainfall. Chidarambaram recorded the highest rainfall at 8 cm in the state for the day, while Meenambakkam in Chennai received 6.3 cm of heavy rainfall on Friday. Various locations, including Madurai, Vellore, Thanjavur, Taramani, Villivakkam, and Pallikaranai in Chennai, experienced light to moderate rain.
S Balachandran, the Additional Director General of Meteorology in Chennai, suggested an upswing in monsoon activity starting from Saturday. However, the rain is expected to be sporadic, with intervals of sunshine during the day due to the relatively weak weather system. Coastal districts may also encounter intermittent rainfall with no significant weather disturbances.
In the 7-day weather forecast, Chennai may experience intermittent periods of moderate rain with thunderstorms and lightning until Sunday, with some areas receiving heavy rainfall at times. Brief episodes of rain on Friday led to localized waterlogging in specific parts of the city.
According to IMD data, Tamil Nadu is facing a deficit in northeast monsoon rainfall, with an overall rainfall of 12 cm, a 40 per cent deficit from the average of 19 cm recorded since October 1. Many areas, including Chennai, Ariyalur, Chengalpattu, Krishnagiri, and Kallakurichi, have experienced a rainfall shortfall of over 70 per cent.
Last Updated Nov 4, 2023, 9:03 AM IST