G20 Summit 2023: IMF Chief Kristalina Georgieva shakes a leg to Sambapuri beats at Delhi airport (WATCH)
The article discusses the warm welcome and cultural exchange between Kristalina Georgieva, the Managing Director of the IMF, and Indian artists during her arrival in New Delhi for the G20 Summit.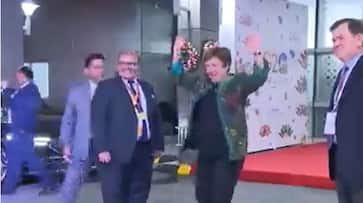 Kristalina Georgieva, the Managing Director and Chairman of the International Monetary Fund (IMF), arrived in the national capital on Thursday to participate in the eagerly awaited G20 Summit. Upon her arrival at the New Delhi airport, Ms. Georgieva was greeted with a warm welcome, complete with a vibrant cultural dance performance.
A dedicated cultural team showcased a traditional folk dance set to a Sambalpuri song as a heartfelt gesture to welcome the IMF chief to India. In a delightful surprise, Ms. Georgieva expressed her appreciation by enthusiastically applauding their performance and even attempting a few dance steps herself.
Union Minister Dharmendra Pradhan took to Twitter to share a video capturing this memorable moment, showing Ms. Georgieva joyfully joining the Sambalpuri artists in their dance. In his caption, he wrote, "It's difficult to resist the captivating #Sambalpuri beats. MD of the International Monetary Fund, Ms. @KGeorgieva, arrives in India for the #G20 summit, welcomed with a #Sambalpuri song and dance. #OdiaPride."
The video, shared just a few hours ago, has already garnered more than 19,000 views and received thousands of likes. One user in the comment section expressed their pride, saying, "Absolutely wonderful, a proud moment for Odias." Another user acknowledged the strength of Indian culture and music, remarking, "This is the strength of our culture and music."
A third user applauded the display of Indian culture, stating, "Superb display of Bhartiya Culture and Music and Dance." Lastly, another user admired Ms. Georgieva's ability to connect with her inner child, commenting, "How beautiful video! Though she holds a prominent position, she didn't let go of her inner child. Kudos to her. Such a heartwarming moment."
Last Updated Sep 8, 2023, 12:58 PM IST