Kerala: Flights to be suspended for five hours at Thiruvananthapuram airport on October 23; Here's why
During the Alpassi Arattu procession, the deities of Sree Padmanabhaswamy Temple are taken to the sea for a holy bath which also passes through the runway at Thiruvananthapuram airport.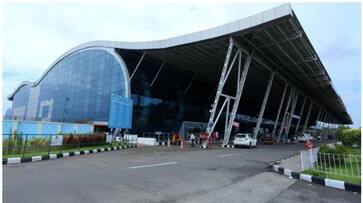 Thiruvananthapuram: The international airport at Thiruvananthapuram will remain suspended for five hours on October 23 to facilitate Alpassi Arattu procession of Sree Padmanabhaswamy temple. A statement from the airport authority stated that flight services will be temporarily suspended from 4.00 pm to 9.00 pm.
Also read: Kerala: Health Inspector accused of strangulating wife to death gets life imprisonment
The passenger advisory read, " Flight services at Thiruvananthapuram Airport will be temporarily suspended on October 23, 2023, from 1600 to 2100 hours, to facilitate the Alpassi Arattu Procession by Sree Padmanabhaswamy Temple."
"The updated timings of the flights are available with the respective airlines. Your understanding is greatly appreciated," it added.
The custom of the temple procession travelling along the path to go to Shangumugham beach for the deities' holy bath began generations ago and has persisted even after the airport was built in 1932.
For decades, the airport has had to pause operations and rearrange planes twice a year so that the shrine's bi-annual, centuries-old ceremonial procession can pass down the runway. According to historians, the then-Travancore King Sree Chithira Thirunal had made it clear when the airport was built at that location that it would be accessible to the general public for 363 days of the year and for two days for Lord Padmanabha, the titular deity of the royal dynasty.
 
Last Updated Oct 18, 2023, 11:19 AM IST