Exclusive: 'Congress is not a mindless party'
"If there was no democracy with the Congress, I would not have been in the party," says senior Congress leader Salman Khurshid in a conversation with Asianet Newsable's Mohammad Yacoob.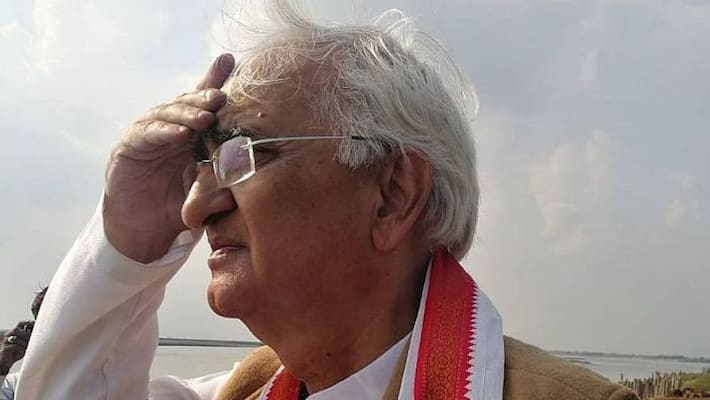 With the Congress receiving yet another electoral drubbing, voices of dissent have once again started getting louder. While demanding accountability, senior Congress leaders are questioning the manner in which the party is being run at the moment.
Countering one such charge by senior leader Kapil Sibal, party colleague Salman Khurshid had in a Facebook post asserted that the favourite panacea of "doubting Thomases" -- introspection and collective leadership -- might do no collateral damage but is a bit overestimated.
Hours later, Asianet Newsable's Mohammad Yacoob spoke to a visibly-upset Salman Khurshid. Here are excerpts:
What is your take on senior Kapil Sibal's comment on Congress not being an effective opposition anymore? 
I am not commenting on Kapil Sibal. I have my own views, he has his own views. I am not commenting whether he is right or I am right. The party has a mind. It's not a mindless party and the party knows what to do at the right time and the appropriate manner. We have already been told that there will be a meeting. Whoever wants to say anything can either be present and say themselves or can give in writing to any member who is going to attend (the meeting). 
Some believe that the Bihar poll verdict will have an impact on assembly elections in five states next year. What are your thoughts? 
See, an election that happens any day, anywhere inevitably has some effect on subsequent elections but if that was the only case then there would never be a change in election. So it may have an effect, it may not have an effect. It will all depend on the local conditions, it will depend on circumstances. But it can't be that once the BJP.... see when we won Rajasthan, Madhya Pradesh and Chhattisgarh, that didn't defeat the BJP after that election. So how can you ask me a question whether this election will have an effect. We will have to see when the times comes. 
Considering the fact the Congress is resurrecting itself, has there been any discussion on the next round of elections coming up in six months' time?
I have no idea, but the party does brain storming all the time. Its time and schedules are not fixed by the people outside. The party inside continues to do it all the time. It me just be going on even now (17 November) in different different pockets and finally at the Congress Working Committee and I am sure it will happen and it happens all the time. 
Earlier, it was leaders like (Jyotiraditya) Scindia and Tom Vaddakan. Now, Kapil Sibal is speaking about lack of internal democracy...
Well my personal take is that if there was no democracy I would not have been in the Congress. So how can I comment on those who have gone? I can only talk about those who are here. I can talk about my being here, because I am here. I have reasons to be here. I don't want others to decide whether I should be here or not. I am here (Congress). 
Soon after the Bihar polls, regional parties think it's not beneficial to align with Congress anymore. What do you have to say about that?
I don't know because nobody has told me it helps or it doesn't help. If considered useful by everyone (alliance partners) there will be an alliance, if it's not considered useful, there will not be an alliance. But I can't predict who considers it useful and who doesn't considers it useful. 
 
Last Updated Nov 18, 2020, 9:02 AM IST