Delhi-NCR's air quality drops to 'severe' as smog engulfs national capital
Many parts of Delhi recorded their air quality in the 'severe' zone on Thursday, with a persistent smoky haze blanketing the city for the third consecutive day. Low wind speed and continuous stubble burning in Punjab have been the major reasons for the dropping of air quality levels.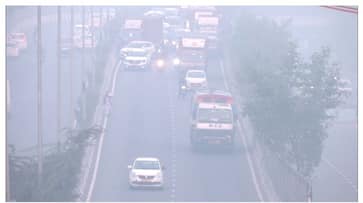 The air quality in Delhi turned 'hazardous' on Thursday with a continuous cloud of smoke covering the city for the third day in a row. The entire NCR is largely dotted with Maroon flags, which signifies 'hazardous' air quality. The main causes of Punjab's declining air quality standards have been low wind speeds and ongoing stubble burning.
Scientists are warning of an expected spike in pollution levels in the Delhi-NCR region over the next two weeks due to an increase in agricultural fires and unfavourable weather. This is especially concerning because the air quality index has already above 400 in numerous places.
Experts in health are worried about the possible rise in respiratory conditions and asthma, especially in youngsters and the elderly.
Also Read | Shocking! UP man gives triple talaq on video call after wife gets eyebrows done
As of 10 am, the city's Air Quality Index (AQI) was recorded at 351. The 24-hour average AQI stood at 364 on Wednesday, 359 on Tuesday, 347 on Monday, 325 on Sunday, 304 on Saturday, and 261 on Friday.
The city's Punjabi Bagh (416), Bawana (401), Mundka (420), and Anand Vihar (413), among other locations, reported having extremely poor air quality. In some areas, the quantity of PM2.5—fine particulate matter that may profoundly penetrate the respiratory system upon inhalation—was six to seven times higher than the 60 micrograms per cubic metre threshold that is considered safe.
Delhi Environment Minister Gopal Rai on Wednesday said the city government will ban construction work in areas recording an air quality index (AQI) above the 400-mark for five consecutive days.
Also Read | IIT Delhi student dies by suicide at home, third such case this year
In an effort to minimise vehicle pollution, the government has started "Red Light On Gaadi Off" and wants to hire 1,000 private CNG buses to improve public transit.
The Delhi Pollution Control Committee (DPCC) performed an investigation and found that between November 1 and November 15, when there are more stubble burning occurrences in Punjab and Haryana, the city suffers peak pollution.
Also Read | Kerala govt moves Supreme Court against Governor Arif Mohammed Khan for withholding bills
Last Updated Nov 2, 2023, 1:28 PM IST