Demonetisation: 7 questions Modi must answer right now
Will the menace of black money will be eradicated after demonetisation?
Flip flopping rules and measures, why government was not prepared for such a massive change?
How long will it take to replace the banned currency?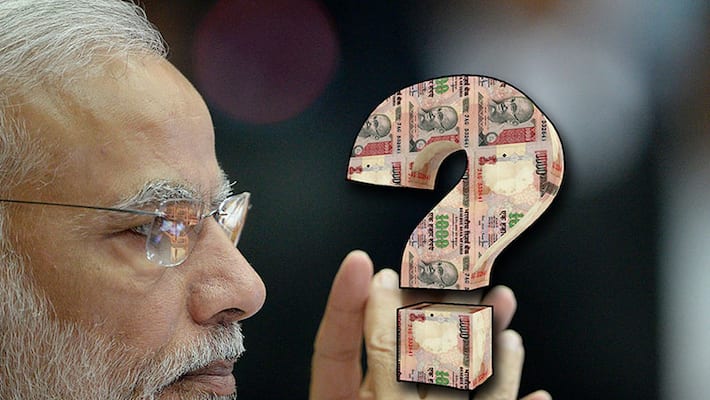 We are almost at the end of the third week since demonetisation of ₹500 and ₹1000 and it is time we demand some serious answers to a couple of critical issues that Modi government is yet to address. 
When PM Narendra Modi announced the demonetisation of ₹500 and ₹1000 currency notes, the reason behind this sudden move was to recover black money, stop counterfeit currency, and also to put a temporary halt on terrorism. The country welcomed the move and appreciated PM Modi's brave move until the country was hit by cash crunch as 86% of the currency notes became invalid overnight. 
Now, after three weeks here are the critical 7 questions that the government must address and answer
1. Will demonetisation eradicate black money from Indian economy? 
As per government-commissioned National Institute of Public Finance and Policy (NIPFP) estimate, black money is mostly in sectors of higher education, real estate, and mining. Apart from this, Gold and benami transactions are the other sectors where illicit wealth or black money is hidden.
According to a report in the Indian Express, top experts have estimated that only 1/20th of black money in India is available on liquid cash. In this scenario, how much damage demonetisation can cause to black money hoarders is questionable. 
2. Will digital transaction replace the cash transactions?
The demonetisation is also seen as a medium to encourage digital transactions, but most of the debit card users use their cards to withdraw cash rather than make payment. One of the reasons, going digital is not an option as many commercial establishments do not have cash payment facility and e-wallet mostly do not have security features enough to make users comfortable to use them. 
Use of digital transactions or rather a limitation in using digital transactions will lead to fall in demand as people will only buy things that they feel essential. This will impact the economy in adversely in longer run since India's small industries where card payment is not an option significantly contributes to the country's GDP. 
In fact, the impact of demonetisation on GDP of India has also been predicted by former PM and noted economist Manmohan Singh, economist, independent organisations and agencies. 
3. What preparations were done by the government and RBI before launching this massive currency change move? 
No Parliament debate or public announcement has cleared the air around this issue as to what preparations the government did to facilitate this move? The Finance Minister, Arun Jaitley mentioned that six months were used to plan the operations of this change meticulously. 
4. Then, why we are still facing cash crunch? 
To replace the banned notes government introduced the new ₹500 and ₹2000 denominated notes but the problem that hit the country hard is that there is not enough of the new notes to replace the old ones instantly. 
PM Modi has urged the nation to give him 50 days time, and the opposition parties have strongly criticised the government for this sudden move that has led to economic crisis in the nation. 
Modi has called this cash crunch situation 'minor inconvenience' and some are seeing this as a temporary crisis that will eventually straighten out. 
5. the high-value ₹1000 rupee notes have been banned and to replace that ₹2000 notes have been introduced, how will this help to stop the black money hoarders? 
The exposed loopholes are already being used to replace the black money with new currencies. 
6. Will government demonetise these new currencies too? 
The new currency that has been introduced in the market seem to have some printing errors that can not overlook, for that matter, RBI has accepted the printing errors in the new ₹500 rupee notes. So, will the government again demonetise the new currency in future?
7. Why are rules and measures changing so frequently?
Since the demonetisation, the government has been working and reworking on the same set of rules and measures which show that government was ill-prepared and these rules and measures are not working the way they were expected to work. 
Be it the old currency exchange rules, mediums of exchange, or limitation on withdrawal, everything is highly unpredictable and even government seems unsure of which rule might work and which will not. 
Demonetisation is a move that has impacted everyone from farmers to bankers to rural living without easy bank accessibility to urban card swiping population, and it has to be managed properly to make it a success. 
At present, PM Modi is justifying this move on the basis of public support but testing the patience of people by imposing an ill-prepared plan is a bad idea in a democracy. 
Last Updated Mar 31, 2018, 6:41 PM IST