Coronavirus: Iconic Channapatna toys gifted to kids travelling in 'Shramik Special' trains
Kids travelling in 'Shramik Special' trains were gifted the GI-tagged Channapatna toys. The trains departing from Karnataka saw children getting these toys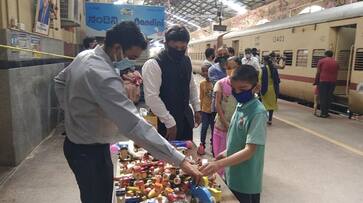 Bengaluru: The South Western Railway (SWR), under the initiative "Put the smile back", is distributing iconic Channapatna toys to children boarding the 'Shramik Special' trains from Karnataka.
Watch: Migrants back home thanks to 'Shramik Special' trains
South Western Railway (SWR) on Tuesday (May 19) said the Geographical Indication (GI) tagged Channapatna toys were handed over to kids travelling on 'Shramik Special' trains.
Also read: Chennai doctors dance away COVID-19 stress
"Under the  initiatives of "put the smile back" #Channapatana toys distributed to children boarding #ShramikSpecialTrains sponsored by M/S @concor_india #India #IndianRailways #Karnataka #Mysuru #FightAgainstCorona #Mysuru #Bengaluru #StayHomeStaySafe #IndiaFightsCoronavirus (sic)," SWR tweeted.
In another tweet, SWR said this initiative is also part of Prime Minister Narendra Modi's "Vocal for Local" to help local artisans.
"This is a intiative both to make those children happy and give opportunity to local artisians to promote their art . The latter is under the Hon'ble PMs intiative of "Vocal for Local"#India #IndiaFightsCoronavirus#IndianRailways #Karnataka #Bengaluru (sic)," SWR said.
Channapatna toys, made of wood, have a rich history of over 200 years. The toys are manufactures in Channapatna town, situated nearly 62 kilometres from Bengaluru.
SWR on Monday (May 18) operated six more 'Shramik Special' trains, one from Hubballi to Basti in Uttar Pradesh and five from Bengaluru, two to Bihar, two to Uttar Pradesh and one to Guwahati.
SWR has so far run 82 'Shramik Specials' for migrant workers, students and families to return to their home towns, in different parts of the country after relaxation of the coronavirus (COVID-19) lockdown in Karnataka. Over 1 lakh passengers have travelled in 'Shramik Specials', according to SWR.
Apart from kids being presented with the iconic Channapatna toys, the passengers are being provided with food packets and two water bottles of one litre capacity each, dates, cookies and buttermilk for their journey.
The Railways is taking care to ensure social distancing, wearing of masks and sanitising of hands and making regular announcement to caution the passengers for prevention and spread of COVID-19 virus before departure from Hubballi, Chikkabanavara, Malur and Bengaluru Cantonment stations.
Special trains are departing the stations only after all the passengers are medically examined by Karnataka government and issued medical certificate.
The Shramik Specials are being run from point to point only on the request of the state government.
Last Updated May 19, 2020, 6:45 PM IST