Chandrayaan-3: ISRO releases new video of Pragyan rover roaming around Shiv Shakti Point (WATCH)
ISRO on Saturday released yet another video wherein the Pragyan rover was seen roaming around 'Shiv Shakti Point' in an attempt to find the lunar secrets at the South Pole of the Moon. Notably, the spot on the Moon where Chandrayaan-3's lander Vikram touched down has been termed as 'Shiv Shakti Point'.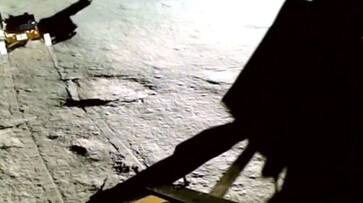 The Indian Space Research Organisation (ISRO) on Saturday released another video of Chandrayaan-3's Pragyan rover which can be seen taking a walk on the South Pole of the Moon.  Sharing a small video, ISRO took to X (formerly known as Twitter) and wrote: "Chandrayaan-3 Mission: What's new here? Pragyan rover roams around Shiv Shakti Point in pursuit of lunar secrets at the South Pole!"
Prime Minister Narendra Modi met with the Chandrayaan-3 mission's scientists earlier today during a visit to the ISRO Telemetry Tracking and Command Network (ISTRAC) in Bengaluru. Addressing the ISRO team there, he announced the name of the site where the Chandrayaan-3 spacecraft landed. He said the place where the spacecraft has landed will be called 'Shiv Shakti' point. 
Also Read | PM Modi hails ISRO scientists for Chandrayaan-3's success; Check out his top quotes
"In Shiv, there is a resolution for the welfare of humanity and Shakti gives us the strength to fulfill those resolutions. This Shiv Shakti Point of the moon also gives a sense of connection with Himalaya to Kanyakumari," he added. 
Hailing the success of India's lunar mission, Prime Minister Modi also declared August 23 as the 'National Space Day'. He said the day will celebrate the spirit of Science, Technology and Innovation, and inspire everyone for an eternity. 
Also Read | PM Modi names Chandrayaan-3 touchdown point as Shiv Shakti, August 23 to be National Space Day
On August 23, Chandrayaan-3 touched down on the Moon. The space agency has been sharing pictures and videos of the rover roving on the lunar surface.  On Friday, the ISRO released a video demonstrating how the ramp made it easier for the rover to slide down.
Last Updated Aug 27, 2023, 9:35 AM IST