Cauvery protest: KSRTC and BMTC extend support to 'Bengaluru bandh', services likely to be shut on Sept 26
On September 26, Bengaluru faces a city-wide shutdown, or 'bandh,' in protest against releasing Cauvery River water to Tamil Nadu. KSRTC and BMTC services may be disrupted, supported by various organizations, pro-Kannada groups, and farmer associations, including KSRTC Staff and Workers Federation, expressing concern over drought conditions and inadequate reservoir levels.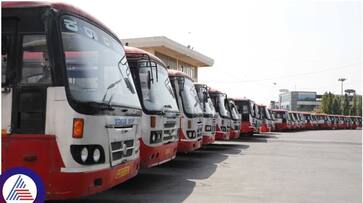 The Cauvery dispute in the state has led various organisations in Karnataka to call upon the 'Bengaluru bandh' on September 26. Karnataka State Road Transport Corporation (KSRTC) and the Bengaluru Metropolitan Transport Corporation (BMTC) are expected to face disruptions in their services on September 26. This bandh has been called for by pro-Kannada groups, political organizations, and farmers' associations as a protest against the release of Cauvery water to Tamil Nadu.
In a statement issued on Saturday, the KSRTC Staff and Workers Federation highlighted the severe drought conditions in more than 195 taluks across the state due to insufficient rainfall. They expressed concern that the water levels in Karnataka's reservoirs are not adequate, and the weather forecast doesn't offer much hope for improvement. Given these circumstances, they find it untenable to continue releasing 5,000 cusecs of water daily from Karnataka to Tamil Nadu.

Cauvery dispute strike to hit Bengaluru on September 26: A look at what's open, what's closed
Numerous political parties, pro-Kannada organizations, and other stakeholders have already joined the protest for justice in the Cauvery water dispute, and the agitation has gained momentum in the Kaveri region.

Karnataka Ex CM BSY and Bommai detained during Cauvery protests in Bengaluru
KSRTC Staff and Workers Federation have extended their full support to the bandh. They have called upon all employees to ensure the success of the bandh by refraining from operating any buses from 6:00 a.m. to 6:00 p.m. in all BMTC units.
The 'Bengaluru Bandh' has garnered support from various quarters, including farmers' groups, pro-Kannada activists, driver unions (including app-based auto-rickshaws and cabs), and hotel associations, all have announced their participation in the 'bandh'. However, Bengaluru Metro will continue its services on September 26. This call for a 'Bandh' was initiated by Kurubur Shanthakumar, the President of the Karnataka Water Conservation Committee, and it has gained traction as a widespread protest against water release to Tamil Nadu.
Last Updated Sep 25, 2023, 10:00 AM IST