BookMyShow cancels Punjabi-Canadian singer Shubh's India tour amid outrage over Khalistan support
BookMyShow cancels Punjabi-Canadian singer Shubhneet Singh's India tour amid controversy and social media boycott over allegations of Khalistani sympathies.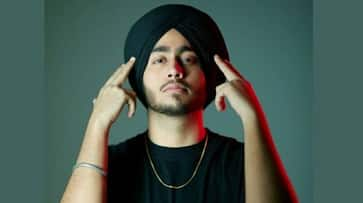 BookMyShow made a significant decision on Wednesday by canceling the India tour of Punjabi-Canadian singer Shubhneet Singh, popularly known as Shubh, due to mounting controversy. The ticket-booking app faced calls for a boycott on social media over allegations that the singer is a sympathizer of the Khalistani movement.
Also read: 'A true Indian brand': Boat withdraws sponsorship for Canadian singer Shubh's tour over Khalistan support
In a statement posted on Twitter, BookMyShow announced its decision to cancel Shubhneet Singh's "Still Rollin Tour" in India and assured customers of a full ticket refund within 7-10 days. The statement read, "Singer Shubhneet Singh's Still Rollin Tour for India stands cancelled. To that end, BookMyShow has initiated a complete refund of the ticket amount for all consumers who had purchased tickets for the show. The refund will be reflected within 7-10 working days in the customer's source account of the original transaction."
Earlier in the day, the hashtag #UninstallBookMyShow was trending on social media, with some accusing Shubhneet Singh of being a 'Khalistani' and a supporter of separatist leaders. This controversy unfolded against the backdrop of a diplomatic dispute between India and Canada, which resulted in the expulsion of senior diplomats from both countries. Canadian Prime Minister Justin Trudeau alleged Indian involvement in the killing of Sikh separatist leader Hardeep Singh Nijjar, 45, in British Columbia in June of the same year. India swiftly dismissed Canada's allegations as baseless. This diplomatic row has further strained already fragile relations between the two nations and disrupted trade talks, which were put on hold.
Shubhneet Singh, an emerging Punjabi rapper, gained fame through the wide dissemination of his song "Still Rollin" on Instagram reels. His breakout single, "We Rollin," released in 2021, has garnered more than 201 million views on YouTube as of 2023. Recently, he released his debut album titled "Still Rollin" and announced his first-ever India tour, which was scheduled to take place in 10 different cities, including a cruise. BookMyShow had been a sponsor of this Indian tour.
Last Updated Sep 20, 2023, 3:13 PM IST