Bengaluru Violence: Rs 9.5 crore worth damages reported as per FIR
Bengaluru Police on Monday reportedly said that as per calculations made based on FIR, damages and losses is estimated at Rs 9.5 crore. Meanwhile, CM BS Yediyurappa on Monday, said the government would recover the losses from the accused persons' properties.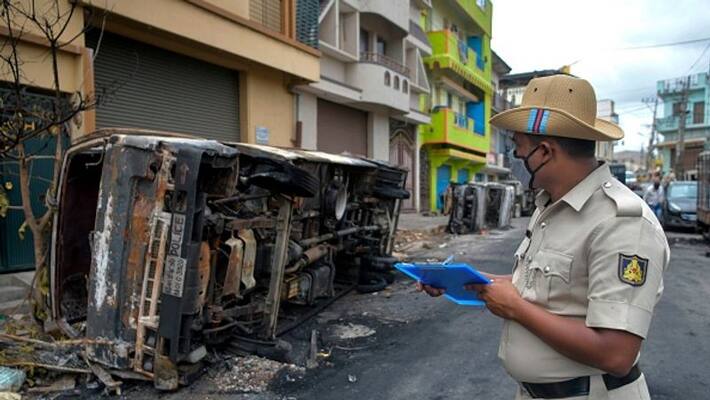 Damage caused in Bengaluru Violence in KG Halli and DJ Halli is estimated at Rs 9.5 crore as per police.
As per reports from Bengaluru Central DCP Anuchet, the losses incurred as per the FIR registered is Rs 9.5 crore, with police sources saying that, as per RTO valuation and others, the losses could go up to Rs 14 crore.
Also read:  Bengaluru Violence: Accused P Naveen who put out controversial post remanded to custody
CM BS Yediyurappa, who seems like he is following UP CM Yogi Adityanath footsteps, has announced that the losses and damages will be recovered from the accused person's property.
In August, a controversial post by Congress MLA's relative P Naveen caused mayhem in Bengaluru East areas of KG Halli and DJ Halli. Thousands of people came on to the streets barged into the police station and MLA's house. The mob vandalised and set properties on fire.
Also read: Gujarat: On pretext of dropping her home, auto driver and four others gangrape 21-year-old
They also went on a rampage damaging public property. Damaged ATMs and charred vehicles of people unrelated to the incident stands as evidence.
Police opened fire to quell the mob in which four persons died and several were injured. The same day, police began cracking the whip and caught about 85 people and sent 80 to Ballari jail in the first set. So far 360 people have been arrested by CCB police.
Last Updated Aug 18, 2020, 11:57 AM IST