Bengaluru traffic to regain breath: Hosur Road – Dairy Circle stretch to open on Monday
The 1.4 km Hosur Road – Dairy Circle stretch in Bengaluru that was closed for over three months will be opened for commuters on Monday.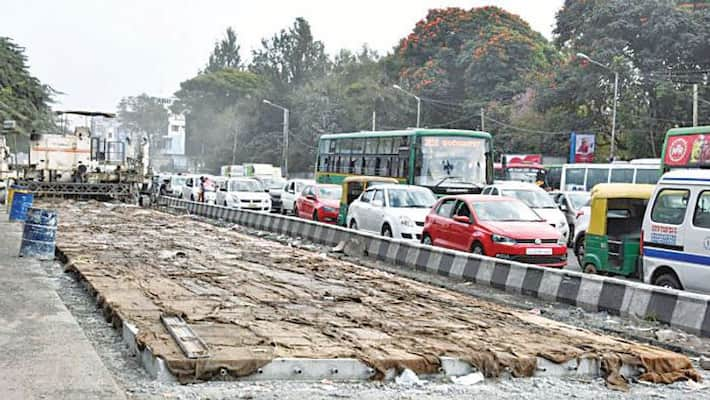 Bengaluru: The busy stretch from Hosur Road towards Dairy Circle that was shut for over two months after white-topping work began, will finally open on Monday.
Bringing in respite to the commuters, white-topping of 1.4 km stretch, which is in the best shape now, was riddled with potholes, promoting the civic body to take up white-topping on November 11, 2019. 
Commuters along Hosur Road had to take a diversion from Dairy Circle to Hosur Road via Bannerghatta Road near MICO Road Cross and then commute towards Forum Mall and St John's Hospital to reach Hosur Road.
The white-topping work on Hosur Road, one of the high-density corridors in the city, was back after almost two years and the road is all set.
The work is being taken up under the second package of the first phase of white-topping work, which was sanctioned in 2017. Although the Palike wanted to take up the work in 2017 itself, the work got stuck due to proposed metro work and delay in getting traffic diversion permission from police.
With the stretch opening on Monday, commuters will breathe a sigh of relief as traffic jams and diversion problems will go down drastically.
Earlier in October, BBMP took up white topping work on Horamavu Main Road. Motorists heading towards and coming from the locality, Ramamurthynagar and KR Puram felt the heat with traffic being diverted. Things worsened with traffic being reduced to a crawl due to narrow carriage way. The underpass turned into a bottleneck.
Last Updated Jan 24, 2020, 11:43 AM IST