Bengaluru taxi strike: Ather Energy offers help to commuters
Bengaluru's private taxi strike disrupts daily routines; government increases BMTC buses and metro frequency. Ather Energy offers 2 km rides near showrooms, earning praise. The strike protests the Shakti scheme and concerns about services like Rapido, Uber, and Ola.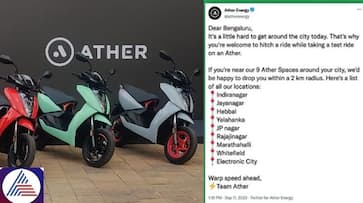 Bengaluru's private taxi strike, organized by taxi associations, has disrupted the daily routines of many citizens who rely on taxis for transportation. In response to this situation, the government has announced an increase in the number of trips provided by BMTC buses and an enhanced frequency of metro trains in the city.
In a thoughtful move, Bengaluru's electric scooter company, Ather Energy, has stepped in to assist commuters. They announced that they would offer rides to individuals within a 2 km radius, provided they are in proximity to one of their showrooms.
The Drive EP02: 5 best electric two-wheelers to buy in India
Ather Energy shared this news on Instagram, saying, "Dear Bengaluru, It's a little hard to get around the city today. That's why you're welcome to hitch a ride while taking a test ride on an Ather. If you're near our 9 Ather spaces around your city, we'd be happy to drop you within a 2 km radius. Here's a list of all our locations: Indiranagar, Jayanagar, Hebbal, Yelahanka, JP Nagar, Rajajinagar, Marathahalli, Whitefield, and Electronic City. Warp speed ahead, Team Ather."
This kind gesture has earned Ather Energy praise from commuters, with many commending their marketing skills. People have jokingly commented, "Raise your marketing game to the point where people ask for a lift instead of a test ride."

Bengaluru bandh: Read airport advisory, BMTC and Namma metro step-up services 
The private taxi organizations in Bengaluru called for a strike in protest against the Congress government's Shakti scheme, which offers free bus services to women in the state. They have also voiced concerns about services like Rapido, Uber, and Ola, alleging that they lack the necessary licenses for commercial operations.
Additionally, auto drivers have raised complaints against Rapido services, which transport customers as pillion riders without displaying a yellow board. They allege that Rapido does not possess the required permits for passenger transportation. This strike has brought attention to the challenges faced by commuters in Bengaluru, with various companies stepping in to provide alternative solutions during the disruption.
Last Updated Sep 11, 2023, 3:46 PM IST