After renaming Khel Ratna award, demand to rename Rajiv Gandhi National Park, Nagarhole grows louder
A day after the Khel Rathna award to be renamed as Dhyan Chand Khel Rathna award in sports was announced by PM Modi, the demand now grows from Karnataka to rename its forest potential Rajiv Gandhi National Park, Nagarhole too. An online petition campaign was also launched in this regard and has garnered over 3,000 signatures against naming the Nagarhole National Reserve Forest as Rajiv Gandhi National Park.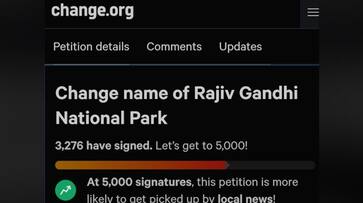 As PM Narendra Modi announced that Indian's tallest sporting honour will soon be renamed as Major Dhyan Chand Award, the demand is now growing for renaming Karnataka's famous Rajiv Gandhi National Park which was formerly known as Nagarhole National Reserve Forest.
An online petition by Kodagu resident Vinay Kayapanda through Change.org that was launched yesterday and has so far reached over 3,212 out of the target of 5,000 signatures. The petition has been tagged to Karnataka CM Basavaraj Bommai and PM Narendra Modi.
The petitioner demands that the park be named after Kodandera Madappa Cariappa who was the first Indian Commander-in-Chief of the Indian Army.
As per the petition, Karnataka's Nagarahole national reserve forest was renamed after former PM Rajiv Gandhi only to impress the particular political family and the party and hence has pitched to give credit to Karnataka origin General Kodandera Madappa Cariappa and if not at least to restore its previous name.
Yesterday, PM Modi has drawn the nation's attention by announcing to rename the Rajiv Gandhi Khel Ratna Award that also carried a cash reward of Rs 25,000 to the awardee.
Dhyan Chand is one of the greatest sports personalities who represented India at the Olympics in 1928, 1932, and 1936 and ensured Olympic medals to the country in hockey.
Immediately Twitter also turned the attention towards the world's largest Cricket stadium that was named after Prime Minister Modi himself and also sought a change and give credit to sports personalities.
 
Last Updated Aug 7, 2021, 6:55 PM IST