Aditya-L1 expected to launch in first week of September: ISRO chairman S Somanath
ISRO Chairman S Somanath reached Thiruvananthapuram, Kerala on Saturday (Aug 26), after the historic success of Chandrayaan-3, the moon mission. Somnath, who was overjoyed, asked people to continue supporting the ISRO in their future undertakings, saying that he and his colleagues were proud and happy to have contributed to the organisation's remarkable success.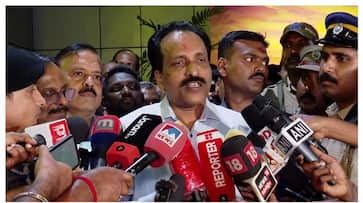 Thiruvananthapuram: ISRO Chairman S Somanath on Saturday (Aug 26) night reached Thiruvananthapuram for the first time after the historic success of Chandrayaan-3. Speaking to reporters and people who arrived to receive him, Somanath said, "The aim of the space agency is to further India's overall development through developing the space sector, and India is capable of launching more interplanetary missions."
Also read: Chandrayaan-3: ISRO releases new video of Pragyan rover roaming around Shiv Shakti Point (WATCH)
"As far as we are concerned, not just the soft landing, but the entire aspects of the Chandrayaan-3 were 100 per cent successful. The entire country is proud of it and extending support to us," he said.
"We are capable to travel more to the moon, Mars or Venus...But, we have to enhance our confidence for that...besides that, there should be more investment as well," he said.
According to him, the goal of ISRO is to further develop the space sector, which will advance the nation as a whole.
When asked about the next mission Aditya-L1, the first space-based Indian observatory to study the sun, Somanath said that the satellite is ready and is expected to launch in the first week of September. 
"After the launch, it will take 125 days from the earth to reach Lagrange point 1 (L1). We have to wait till then," Somnath said.
In addition, he mentioned that Chandrayaan-3's lander and rover have both captured images.
India made history on Wednesday when the Lander Module (LM) of ISRO's ambitious Chandrayaan-3 third moon mission successfully landed on the lunar surface, becoming the fourth nation to do so and the first to reach the unexplored south pole of the earth's only natural satellite. On Saturday, Prime Minister Narendra Modi announced the decision to name the location of the Chandrayaan-3 Vikram lander's soft landing as "Shiv Shakti Point" and the location of the Chandrayaan-2 lander's 2019 crash landing as "Tiranga Point."
Also read: ISRO presents Chandrayaan-3 model, images of Moon landing to PM Modi | SEE PHOTOS
Last Updated Aug 27, 2023, 9:27 AM IST