'BJP leaders will take charge as Opposition front': Former Minister Govind Karajola
Former minister Govind Karajola asserts BJP's lead in state opposition, praising B.Y. Vijayendra's leadership. He foresees BJP's resurgence, criticizes Congress's internal rifts and neglect of farmer issues. Karajola highlights marginalization of communities, including North Karnataka leaders, within Congress. His insights reveal internal challenges shaping Karnataka's political landscape.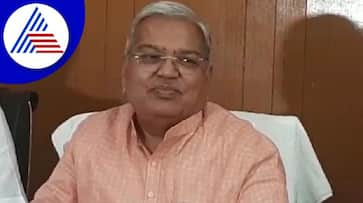 Former minister Govind Karajola conveyed that the Bharatiya Janata Party (BJP), being the largest party, will take the reins of the opposition in the state. Emphasizing the potential for power-sharing in an alliance, Karajola remarked that the opposition cannot be denied a seat, despite speculations.
In a conversation with reporters, Karajola expressed contentment with BY Vijayendra assuming the role of BJP's state president, citing the party's ability to nurture and empower the youth. He credited BS Yeddyurappa for fortifying the BJP, reflecting on his own collaborative experiences with the leader.

BY Vijayendra assumes Karnataka BJP state president role in lavish ceremony
Karajola lauded Vijayendra's leadership, envisioning the youth rallying under his guidance to secure over 25 Lok Sabha seats. He disclosed that Vijayendra is set to take charge on the 15th and advocated support for decisions made by the High Command.
Addressing potential dissent within the party, Karajola stressed the importance of addressing grievances and maintaining unity, affirming that temporary discontent would soon dissipate. Dismissing any personal ambitions for contesting in the Lok Sabha elections, he clarified that party leaders would decide on the candidates.
Challenging Congress's strategies, Karajola remarked on the internal rifts within the party, observing Siddaramaiah's purported false assurances. He confidently predicted BJP's resurgence in the state, asserting their return to power.
Highlighting internal issues within the Congress, Karajola pointed out the apparent power struggle and factionalism within the coalition government. He criticized the lack of attention to farmer distress by certain ministers and MLAs while accusing the government of being consumed by power pursuits.

Vijayendra's talent has been recognised by Amit Shah which earned him to lead state BJP: Former CM SM Krishna
Karajola's comments extended to the alleged marginalization of certain communities within the Congress, particularly citing the exclusion of North Karnataka leader Minister H.K. Patil from a recent dinner event. He also raised concerns about the treatment of Veerashaiva Lingayats within the state, highlighting a sense of neglect despite significant representation in the government.
Senior leader Shamanur Shivshankrappa echoed similar sentiments, expressing dismay over the current state of affairs within the party. These remarks by Karajola shed light on the internal dynamics and challenges faced by both the BJP and Congress in Karnataka's political landscape.
Last Updated Nov 15, 2023, 4:06 PM IST