Decoding Virat Kohli's aesthetic tattoos
First Published 14, Oct 2020, 1:26 AM
Virat Kohli happens to be a youth icon and a role model for many. Besides having dashing looks, along with his unique beard style, the admiration of his tattoos is no less. Here is a list of tattoos, with the meaning and intent with which Kohli got them inked on his body.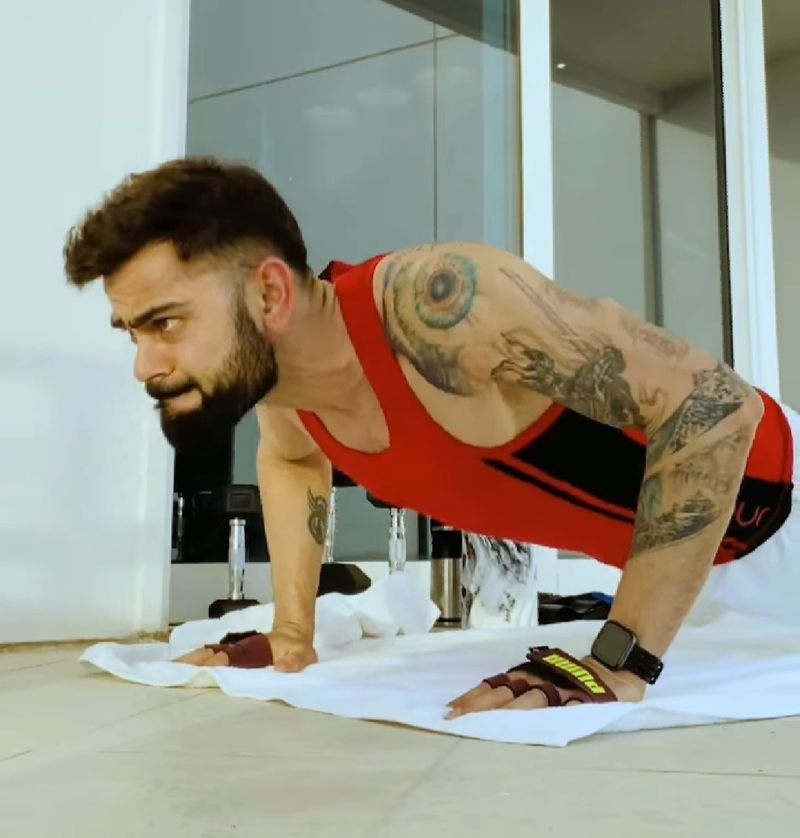 Virat Kohli, the 'Punjabi' boy from Delhi, is not just an Indian cricketer but an international celebrity of high repute. He is not only admired for his looks and beard, his body tattoos have a separate fan base. He is a truly die-hard tattoo-lover, which is evident from is adorned with many tattoos all over his body.
Let's understand the meaning of tattoos that Virat Kohli has got inked on his body, which can also help us decipher this versatile personality in a much better way.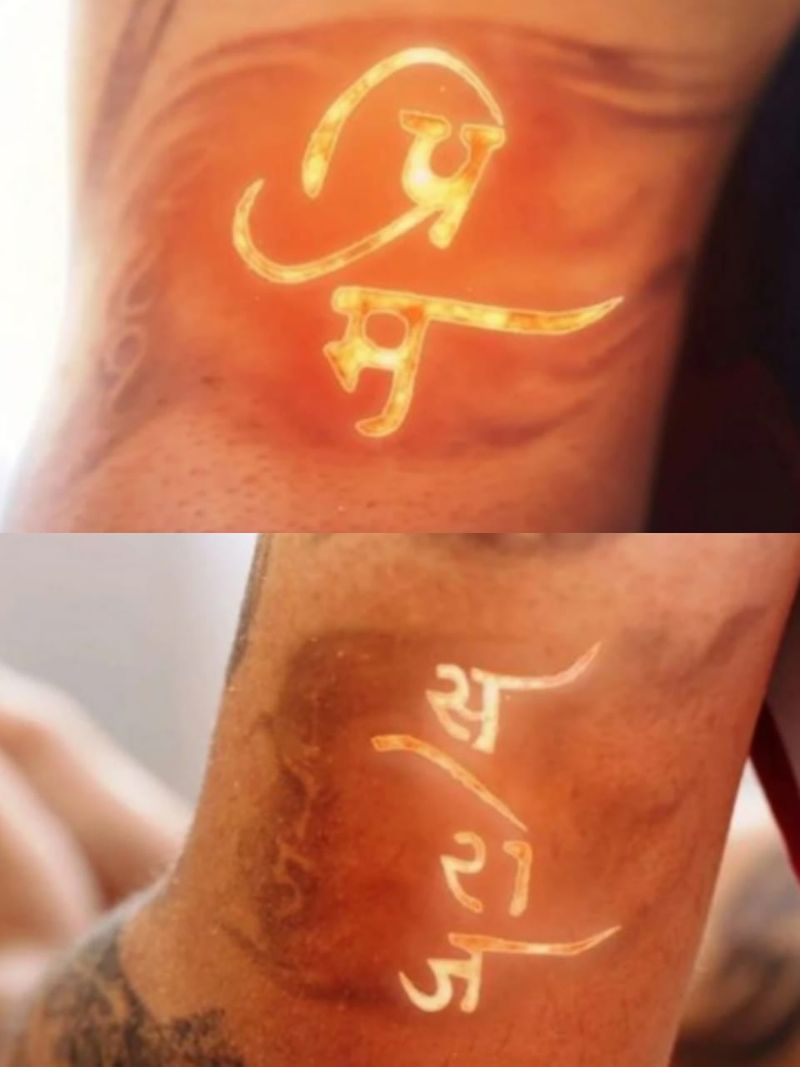 Parent's name
Virat Kohli has got his parent's name (Saroj and Prem) inked on his arms. After his father's death when he was just 18, his mother supported his cricket. Kohli feels, "Purely because the connection that I have felt with them is something that is unexplained. It is a feeling, it's not even something that can be put into words. Hence I wanted to make it a part of me until I'm alive."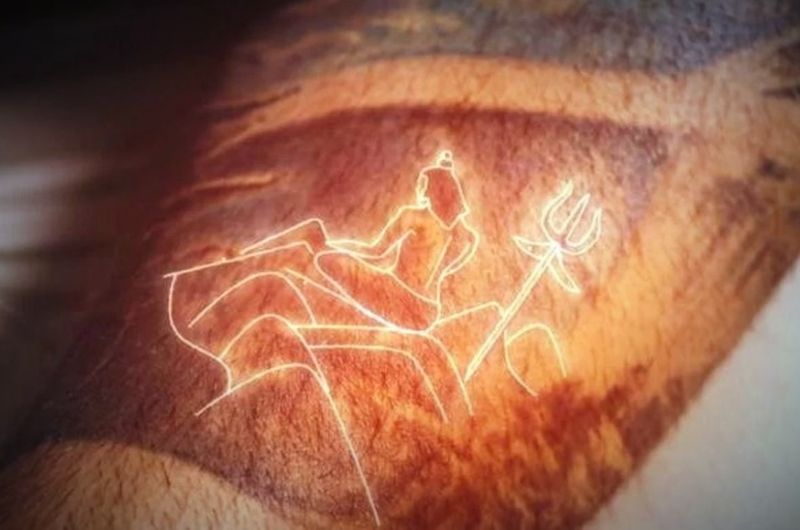 Lord Shiva
On his left arm, Kohli has got a very impressive art of Indian deity Lord Shiva, meditating on Mount Kailash, which is truly calming. He intends to destroy certain attributes within himself and believes that this has the power to do so. Because Lord Shiva is known as the destroyer and he wants to get rid of some things, Kohli got the same tattoo.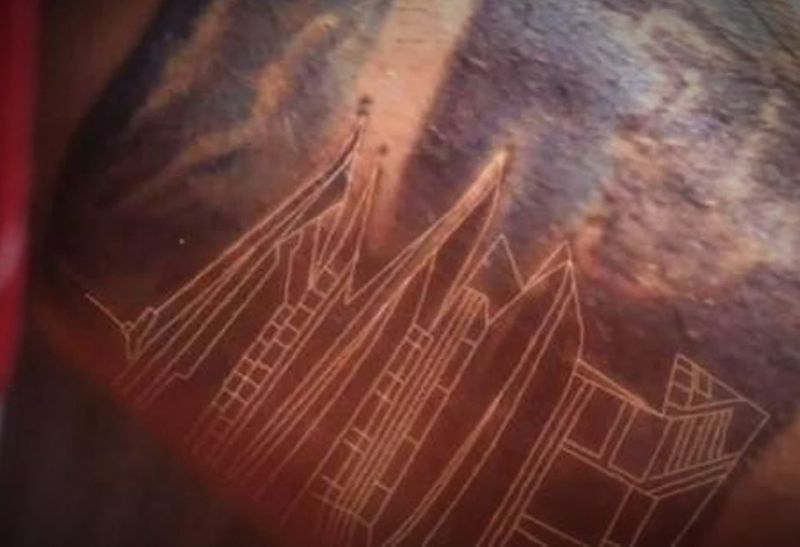 The Monastery
Just next to Lord Shiva's tattoo, a tattoo of a monastery has been inked. It is believed to keep Kohli calm, focus, and have a stable mind when he hits the ground. He believes it to be an aggression absorber.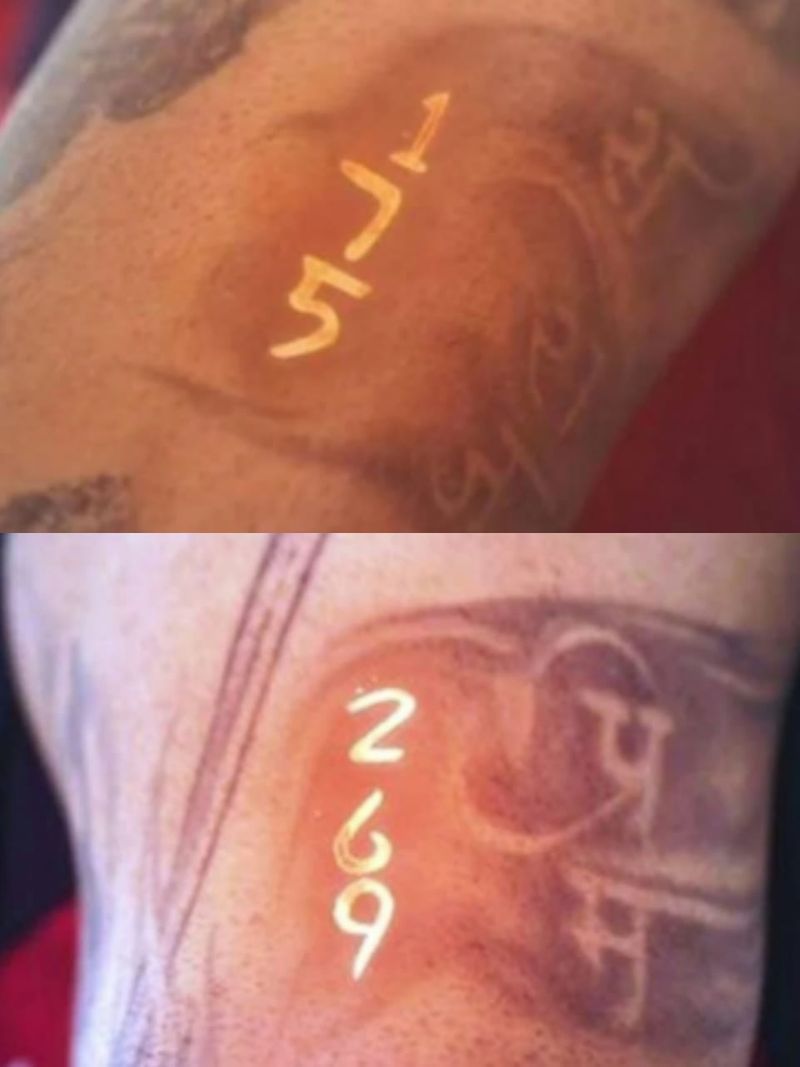 ODI and Test debut Cap numbers
In 2008, Virat Kohli made his ODI debut against Sri Lanka in Dambulla and became the 175th Indian batsman to play One-Day international cricket. However, he notched the Test Cap in 2011 against West Indies in Kingston, becoming the 269th Indian to play the format. He has got these numbers inked just beside his parents' name. On being asked, Kohli said "These numbers will always remain with me because when you look back at the charts 200 years from now, in front of these numbers, there will be my name. These will always be special numbers and hence I decided to get them."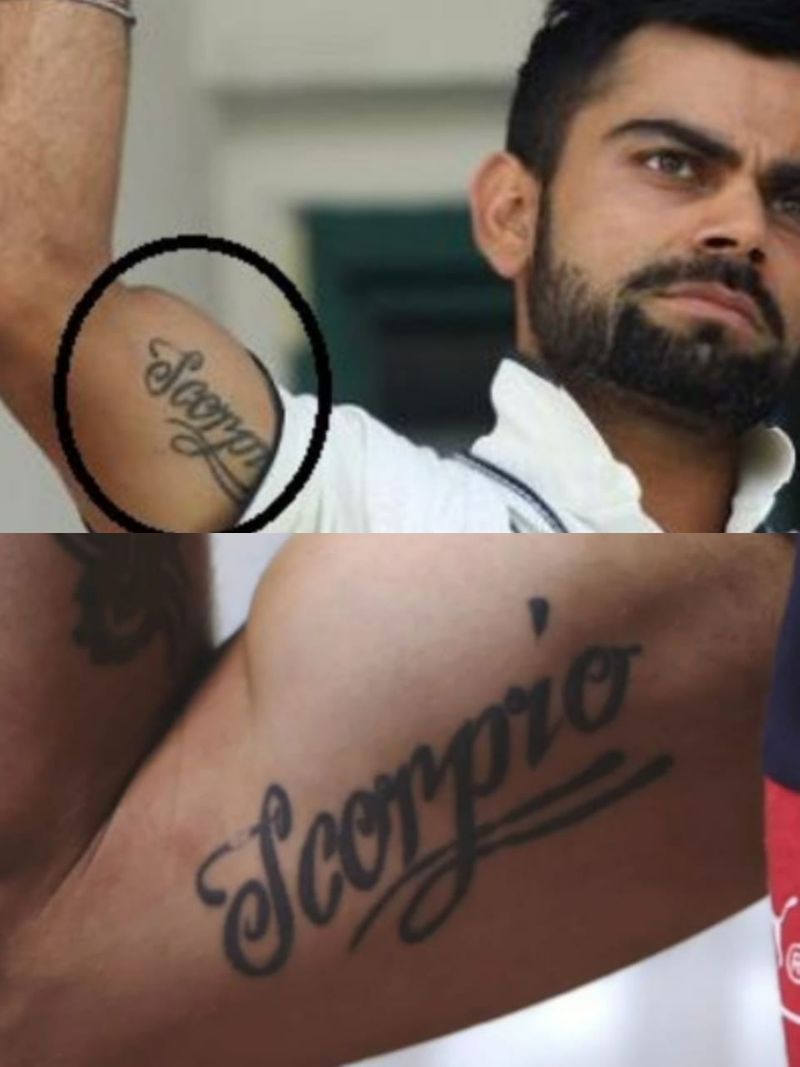 Scorpio (Zodiac Sign)
Born in November, Virat Kohli has got Scorpio as his zodiac sign. The Scorpions are believed to be strong-willed persons who handle difficulties and hurdles with courage and bravery, and there is no doubt that he is a perfect personification of his zodiac attributes.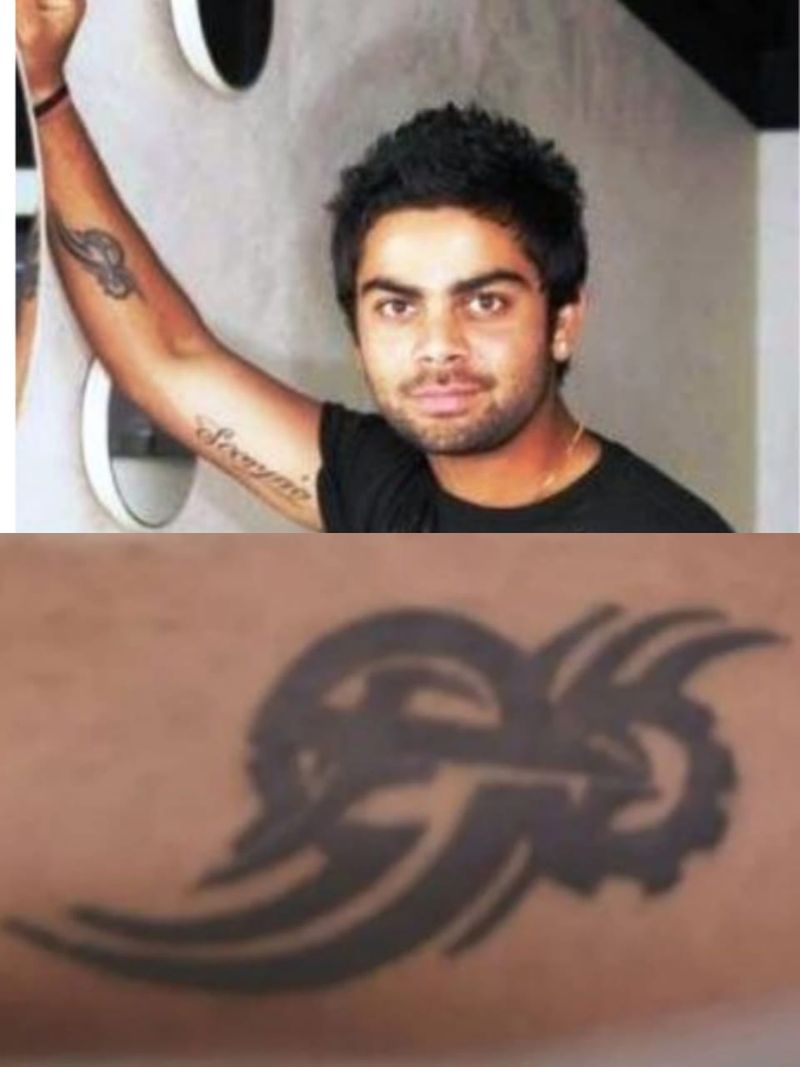 Tribal Art
One of the initial tattoos that Kohli got inked, this signifies aggression and state of mind that was quite significant in his early cricketing days. Thereafter, he became a tattoo-lover and got many inked on his body.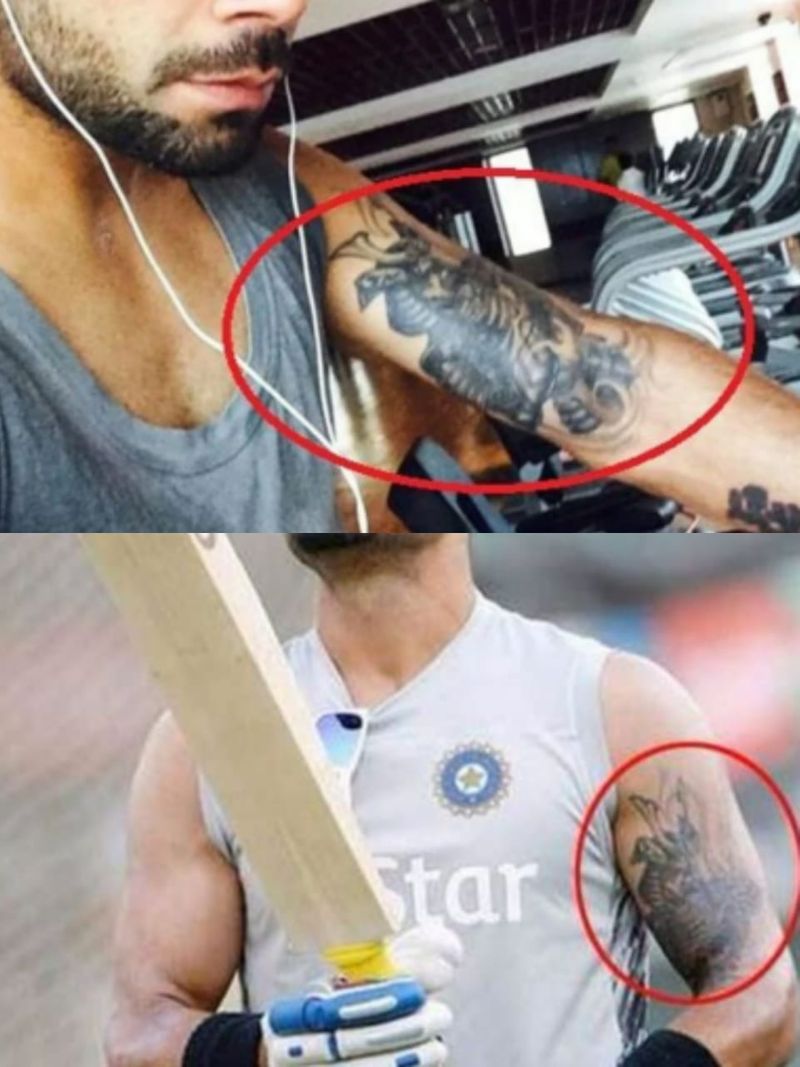 Japanese Samurai
Tracing back to medieval and early-modern Japan, Samurais were the military nobility and officers. Kohli feels that there is quite a similarity of characteristics with the Samurais, especially the Bushido code, which comprises of seven virtues - Gi (Justice), Yu (Courage), Jin (Benevolence), Rei (Politeness), Makoto (Honesty), Meiyo (Honor) and Chugi (Loyalty).
He once reiterated, "I felt like these are the same characteristics that I share. I've had to fight for everything that I've got in life so far, and I will have to be this person all my life because of the choices that I will keep making. And hence it was a representation of me wanting to do something so badly which was wanting to become a professional cricketer."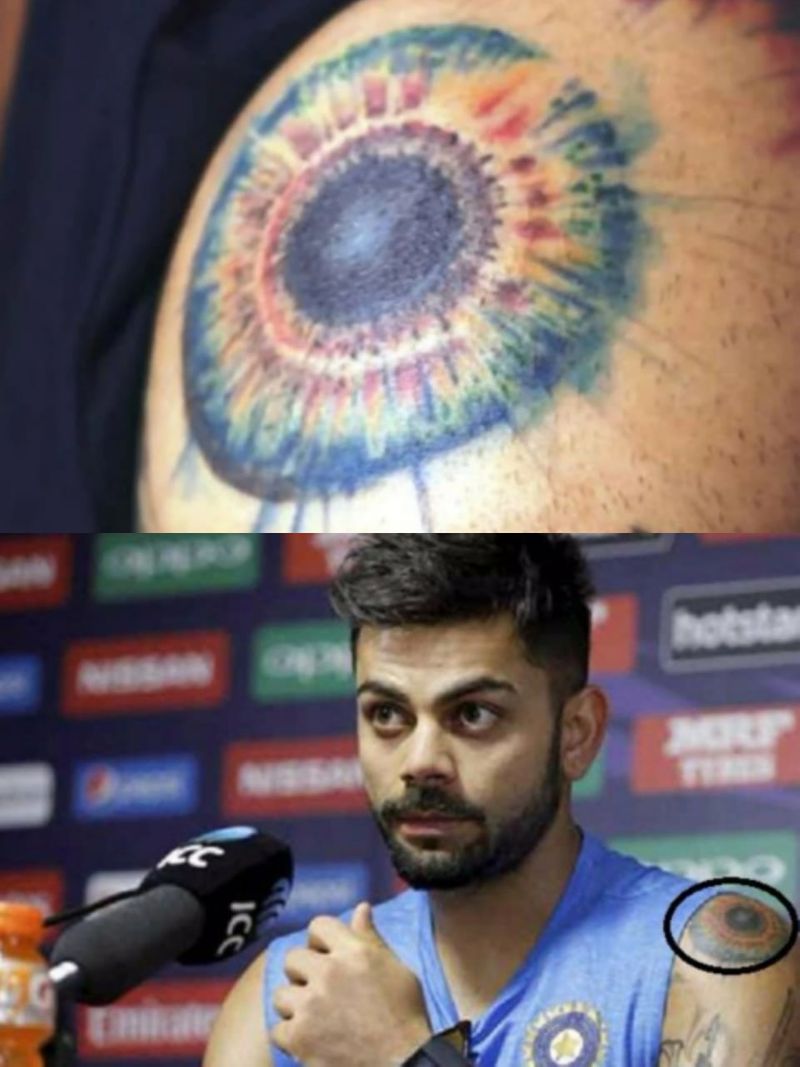 God's Eye
"God is above all of us," and even Kohli feels the same. He feels that we, creations of god, are always under the vigil eye of the god. Thus, he inked God's eye tattoo that keeps reminding him that the Almighty is watching over whatever he is doing.
Kohli once told, "I call it the God's eye. So, basically, the all-seeing eye. That everything that's happening is being watched and there's someone always keeping a count of everything that you do. So that makes you feel connected in a way and also, that makes you understand the essence of life and what we need to do as human beings and what our eventual goal is."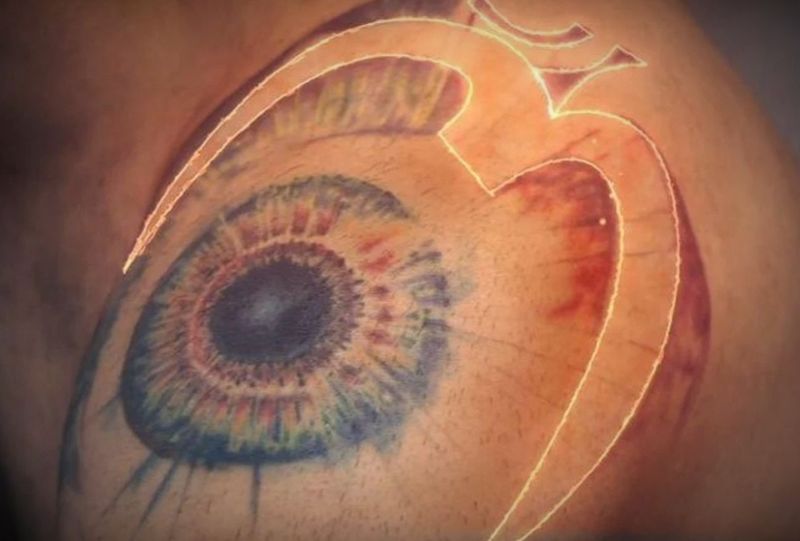 Om, The Universal Sound
Om is a sound that reverberates in the universe and galaxies and is believed to provide peace and center. Kohli believes that the tattoo keeps him calm and thus grounded.
He highlighted his tattoo, "The last one that I have here is finished with an Om symbol, which is the universal sound, which is probably the most consistent thing in the whole universe. Anywhere you observe sounds of the universe that is, you know, what is the most consistent sound that you will hear and that is the essence of life. To understand you're not even a dust particle in the universe and sometimes our ego allows us to think that we're everything. So, I think it's quite astonishing and quite magnificent in a lot of ways. I've started to understand that now... So, I have started to realize strongly that I'm meant to be where I am and this is not random."