Samsung Galaxy SmartTag2 unveiled! Apple's AirTag rival to launch on October 11; Check features, other details
The new ring-shaped device will be released globally on October 11. Galaxy SmartTag2 takes advantage of both BLE and UWB capabilities. SmartThings Find can also provide security through its Unknown tag alert.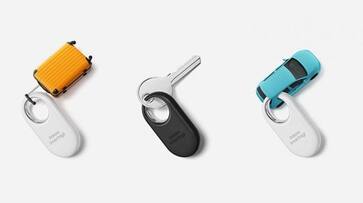 At the Galaxy Unpacked event in January 2021, Samsung Galaxy SmartTag was introduced. The Galaxy SmartTag2, the successor to the original, will now be available, and it will be on sale starting on October 11. Battery life is said to be up to 700 days, which is nearly twice as long as the previous Galaxy SmartTag versions. It has a ring-shaped design and is rated IP67 for water and sun resistance. With Bluetooth communication, the 120-meter range of the Galaxy SmartTag2 is functional. 
More than two years after introducing the first Galaxy SmartTag, Samsung announced the Galaxy SmartTag2 on Thursday. On October 11, the new ring-shaped gadget will be made available worldwide. In comparison to its predecessor, it says it offers new tracking functions. The smart tag gadget may be used to monitor priceless things as well as to keep tabs on your pets. 
Also Read | Amazon sale 2023: iPhone 14 Pro Max gets MASSIVE discount; Check deal details
With the use of a text message, users may now enter their contact information using the new Lost Mode function. Anyone may scan a Galaxy SmartTag2 to get the owner's details after locating a lost tag, object, or missing pet. Any mobile device with a web browser and an NFC reader may use the functionality. 
The Compass View function has also received some tweaks from the business, making it simpler to follow instructions with the use of allows. Any Galaxy smartphone that supports UWB can access the function. Users may now create a shortcut to the SmartThings Find app on their smartphone thanks to upgrades provided by Samsung. It offers a full-screen map view in addition to an improved user interface. 
Also Read | Google Pixel 8 series launched: New Tensor G3 chipset, easy to repair, curvier design & more
The Galaxy SmartTag2's battery lasts for 500 days in regular mode and 700 days in power-saving mode, respectively. This is twice as long as the battery life of earlier Galaxy SmartTag versions. It has an IP67 certification for resistance to dust and water. 
The redesigned compact dimensions and ring-shaped design of the Galaxy SmartTag2 were made for convenience. By employing metal on the interior of the ring for better resistance and the capacity to accommodate accessories like clips and keychains, the wide metal loop increases the product's longevity. Bags and baggage can also be equipped with these attachments. The SmartThings Find service, available in the SmartThings app, is used to operate Galaxy SmartTag2. 
Also Read | Flipkart sale 2023: Apple iPhone 14 to be available under Rs 50,000?
Last Updated Oct 6, 2023, 2:57 PM IST