Google Pixel 8 series launched: New Tensor G3 chipset, easy to repair, curvier design & more
Google introduced its much awaited Google Pixel 8 Series, along with its Pixel Watch 2, today at its Made by Google launch event. Here's everything you need to know about it.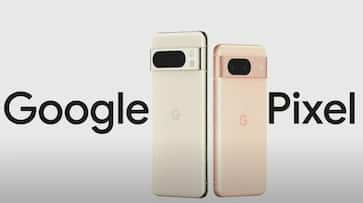 With the new Tensor G3 processor, Google has brought all of its new AI features to the Pixel 8 and Pixel 8 Pro series. The hues are more vibrant, and the pattern is more curvier. In order to improve readability in sunlight, the new Pixel phones' displays use new technology with increased peak brightness.
Google said the new Tensor G3 chipset powering the Pixel 8 series offers 2x more machine models which is impressive but we still don't know if the new hardware is capable of matching the power offered by Qualcomm and MediaTek chips.
The Pixel 8 has a design similar to the Pixel 7, but with smoother edges and a somewhat smaller size. It is noteworthy that it keeps a flat display. The Pixel 8 Pro, on the other hand, emphasises luxury colour options while elevating its style with a matte glass back. Along with new colour options, the Pixel Buds Pro will match the design of the most recent Pixel devices.
Also Read | Google Pixel Watch 2 with improved battery life and focus on health features launched
The new temperature sensor for the Pixel 8 series Pro is located directly next to the back cameras. The new Pixel 8 line of phones should be simple to fix thanks to Google's partnership with iFixit. The new phones should perform better in the drop testing than the iPhone 15 series.
Google has introduced 'Super Actua' displays for improved brightness levels and optimal visibility even in bright sunlight. The Pixel 8 will feature a 6.2-inch FHD+ OLED display with a dynamic 60Hz-120Hz refresh rate and a peak brightness of up to 2,000 nits.
With Video Boost, the Tensor G3 and Google's data centres will work together to process films in a cutting-edge manner on the Pixel 8 Pro. For clips that look realistic, it modifies the colour, lighting, stabilisation, and graininess.
The main camera now has a 50-megapixel sensor, the telephoto lens has been improved, and the selfie camera has autofocus. The native camera app will also provide users with access to manual camera settings.
Meanwhile, Google's generative AI, Bard, will now offer more capabilities. It can find your important emails and pull together information from different apps. Any Pixel presentation would be lacking without a discussion of its AI-focused cameras.
Additionally, Google is introducing more AI tools this year, such as audio editing capabilities for movies that we have recently seen in leaks. The presentation also demonstrated how AI can maintain the sounds of the infant while removing the dog's barking.  For pricing, Pixel 8 starts at $699 and Pixel 8 Pro at $999. They will be available from October 12.
Google Pixel 8 series India prices: The Pixel 8 will be available for Rs 75,999 while the Pixel 8 Pro will cost you Rs 1,06,999 this year. Pre-orders now open on Flipkart, should be available later this month. 
Last Updated Oct 4, 2023, 8:50 PM IST