Oppo Reno 11 series to launch on November 23; Check out its first look here
Oppo Reno 11 series will be launched in China on November 23. The Oppo Reno 11 series phones have been confirmed to come in four colours: Fluorite blue, Moonstone, Turquoise, and Obsidian black.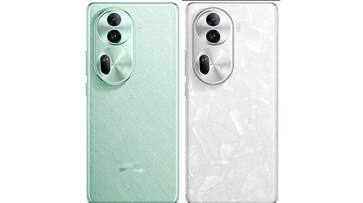 Oppo Reno 11 series will be launched in China on November 23. The lineup consists of two models, Reno 11, and Reno 11 Pro. Oppo's China website has gone live with the product listings, taking pre-reservations at the time of writing. So yet, just the design has been made public, but in the days before launch, more hardware information should become available. Based on past performance, we may anticipate that Oppo will introduce the new Reno 11 series in India as soon as possible.
The Oppo Reno 11 and Oppo Reno 11 Pro's base designs seem to be comparable to the Oppo Reno 10 series phones, based on the listings page. Oppo has updated their selection of colours. Compared to the versions they are replacing, they appear more shiny. Four confirmed colours for the Oppo Reno 11 series phones are fluorite blue, moonstone, turquoise, and obsidian black.
Also Read | Vivo Y27s with 50MP camera, Snapdragon 680 SoC launched; Check features, price & more
Oppo is showcasing their portrait photography skills, as is customary with these Oppo Reno phones, even going so far as to say they would be able to take pictures comparable to those taken by SLRs. The camera setup's precise specs have not yet been made public.
According to rumours, the Oppo Reno 11 Pro will have three rear cameras: a 32-megapixel IMX709 sensor with telephoto lens for two times optical zoom, and a 50-megapixel Sony LYT-700 primary sensor behind an optically stabilised lens combined with an 8-megapixel ultrawide.
Also Read | iPhone SE 4 to have iPhone 14 design and iPhone 15-like 48MP camera: Report
The flagship Oppo Reno 10 Pro Plus available in India features an optically stabilised 50-megapixel Sony IMX890 sensor hidden below the lens. This is combined with an 8-megapixel ultrawide and a 64-megapixel periscope telephoto for up to 3x optical zoom. The Reno 10 Pro replaces the 64MP sensor with a 32MP telephoto lens for up to 2x optical zoom while keeping the same primary and secondary configuration. The primary is replaced with a 64MP main (without OIS) in the Reno 10, however the secondary and tertiary are identical to those of the Reno 10 Pro.
 
Last Updated Nov 17, 2023, 12:38 PM IST