Google to manufacture Pixel smartphones in India, first Pixel 8 expected in 2024
Google's Pixel series will soon be manufactured in India, and the first India-made model of the Google Pixel 8 will come to the market in 2024. The announcement was made at the Google for India 2023 event on Thursday, October 19, by Google Senior Vice President for Devices and Services Rick Osterloh.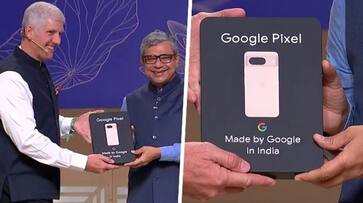 Google plans to begin assembling its Pixel smartphone lineup in India, a company executive said, becoming the latest tech giant to bet on the South Asian market for devices manufacturing.  At the company's annual India event on Thursday, Rick Osterloh, Senior VP of Devices and Services at Google, revealed that the firm plans to begin local manufacture with the current lineup, including the Pixel 8 and Pixel 8 Pro, in India. The company aims to sell the India-made batch starting next year.
Google's pledge to produce its smartphones in India is just another victory for Prime Minister Narendra Modi's administration, which has been successful in luring other large corporations to grow their operations there.
Also Read | Apple Watch Series 9, Watch Ultra 2 facing screen 'flickering' issue: Report
"Nine years ago, mobile manufacturing was essentially nonexistent in India," stated Ashwini Vaishnaw, the IT Minister of India, during the Google event.  "Our Prime Minister's vision of Make-in-India and Digital India, the entire thing has gotten translated to real-action on the ground, and today we have close to $44 billion in mobile manufacturing and exports of mobile phones is at $11 billion. It's generating huge employment. So I think what Google has announced today is good for Google and good for India," he added.
Google is the latest tech entrant to make a push to turn India into a manufacturing hub. Apple, whose manufacturing partners began locally assembling iPhones a few years ago, now manufactures the newest models in the country. Google said India is also a priority market for Pixel smartphones and the company is increasingly improving its devices customer service experience in the country. 
Also Read | Vivo Y200 5G to launch in India on October 23; Colour options, price & more teased
Last Updated Oct 19, 2023, 7:23 PM IST