Apple Watch Series 9, Watch Ultra 2 revealed! Check out new features, price, other details
The new Apple Watch Series 9 is powered by neural engine and the new S9 chip. As anticipated, Apple has improved the ultra wideband processor, allowing for increased range and communication with other neighbouring Apple devices.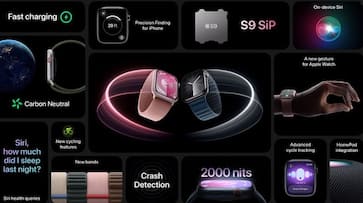 The new Apple Watch Series 9 is powered by neural engine and the new S9 chip.  The new smartwatch has been "redesigned" on the inside, and the new chip is the fastest-ever custom silicon on any Apple Watch. 
Having these helps you with Siri requests on-device. You don't have to worry about Wi-Fi or bad network issue anymore. As expected, Apple has upgraded the ultra wideband chip which helps you communicate with nearby Apple devices and better range for these features.
The new smartwatch promises better battery backup and features including when the index finger and thumb are double-tapped. The double-tap gesture can be used to manage calls and a lot more. It will be available on the watch next month. Additionally, WatchOS 10 will ship out of the box. Apple also confirms the addition of the new U2 chip (ultrawide) for improved Find My feature and connectivity with Apple devices, including HomePod. It promises 18 hours of battery life. The new chip also promises better health-tracking features. 
Also Read | iPhone 15, iPhone 15 Plus with 48MP camera launched; price starts at $799
New band material
The Apple Watch Series 9 is the brand's first ever carbon-neutral product, and the firm pledges that other goods will follow suit in the future. Apple also states that it won't use leather in its upcoming goods, choosing to use a brand-new material it created itself instead dubbed FineWoven.
Apple Watch Ultra 2
A new iteration of Apple's flagship smartwatch is here!  Apple is bringing more advanced and rugged features to the new Watch Ultra 2 with a brighter display and a smarter dark mode feature. It also has more health tools, the new gesture tool and up to 36 hours of battery.
It comes with an upgraded display with a peak brightness of a whopping 3000 nits, advanced metrics for runners with a customisable action button, and takes cycling to the next level by allowing Bluetooth accessory connection. The battery lasts for 36 hours in regular mode and 72 hours in power-saving mode. Lastly, it features 95 per cent recycled titanium.
Also Read | 'Most Pro' iPhone ever! iPhone 15 Pro, iPhone 15 Pro Max with A17 Pro chip launched
Price and availability
Meanwhile, Apple Watch Series 9 prices start at $399 for GPS variant and $499 for the cellular model. Meanwhile, Watch Ultra 2 price is set at $799, roughly Rs 67,000. It will be available from September 22 in select markets.
Last Updated Sep 13, 2023, 12:04 AM IST