Apple introduces 24-inch iMac with M3 chip in India; Check specifications, price & availability
Apple's 24-inch iMac with an M3 chip is available with up to 10 GPU cores. The new iMac is available for pre-order in India and other markets. The pricing for the 24-inch iMac with the M3 chip starts at Rs. 1,34,900.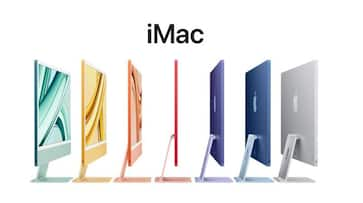 Apple has finally upgraded the 24-inch iMac with the newly announced M3 chip, following the M1-powered iMac that was launched in 2021. The Apple Scary Fast event on Tuesday featured the unveiling of the 24-inch iMac with the M3 CPU. Its design is identical to that of the three-year-old 2021 iMac model with an M1 microprocessor. An 8-core CPU and a GPU with up to 10 cores are included in the updated iMac M3 model. It is said to be more efficient and provide up to two times the performance of the iMac with an M1 processor.
Know all about 24-inch iMac
Even though it has a similar appearance with the previous generation, the new 24-inch iMac with M3 CPU has certain performance enhancements. Based on the A17 Pro technology found in the Apple iPhone 15 Pro, the M3 chip has an 8-core CPU, up to a 10-core GPU, and support for up to 24GB of unified RAM. It is said to be twice as fast as the M1 chip.
Also Read | JioPhone Prima 4G launched in India at Rs 2,599: Check features, price & availability
The 3nm manufacturing technique used to create Apple's new M3 processor increases its efficiency over the M1 chip that drove its predecessor. Regarding graphics, the processor provides hardware-accelerated mesh shading along with iMac ray tracing capabilities. Additionally, a 16-core neural engine is included to facilitate quicker machine learning.
The 24-inch Retina Display that comes with the all-in-one iMac with M3 has a peak brightness of 500 nits and a resolution of 4.5K. It now has support for Gigabit Ethernet, up to four USB Type-C ports, two Thunderbolt connectors, Wi-Fi 6E, and Bluetooth 5.3. Additionally, there is a six-speaker system with compatibility for Dolby Atmos and Spatial Audio, as well as a 1080p FaceTime camera. From the box, it runs the latest version of macOS Sonoma.
Also Read | Apple employee receives 'award' from CEO Tim Cook after working 10 years | WATCH unboxing video
New iMac price and colours
Priced at Rs. 1,34,900, the new 24-inch iMac with an M3 processor is available. This variant has two Thunderbolt connections, 256GB SSD storage, 8GB of RAM, and an 8-core CPU and GPU. With the 24-inch iMac, Apple offers the Magic Keyboard and Magic Mouse. 
Conversely, the starting price of the 24-inch iMac with M3 version and 10-core GPU is Rs. 1,54,900, or Rs. 1,44,900 for educational purposes. The specifications are the same: two Thunderbolt connections, Gigabit Ethernet, two USB 3 ports, an 8-core CPU, 8GB of RAM, and a 256GB SSD. This comes with a Magic Mouse and Keyboard with Touch ID.
Blue, Green, Orange, Pink, Purple, Silver, and Yellow are the colour possibilities that are offered.
Availability
Regarding availability, pre-orders for the new 24-inch iMac with M3 are now being accepted on the Apple website. Starting on November 7, it will be sold through the Apple Store, the internet, and Apple-approved resellers.
Also Read | Explained: What is 'SIM swap scam'? How to stay safe from such fraud?
Last Updated Oct 31, 2023, 11:04 AM IST