JioPhone Prima 4G launched in India at Rs 2,599: Check features, price & availability
Reliance Jio has launched its latest feature phone, the JioPhone Prima 4G. It features a 2.4-inch display and is powered by an ARM Cortex-A53 processor. JioPhone Prima 4G is launched at Rs 2,599.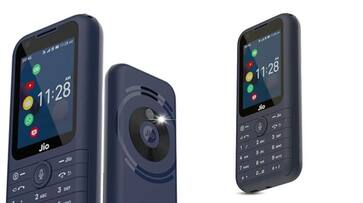 Reliance Jio has launched its new phone, the JioPhone Prima 4G. At the Indian Mobile Congress 2023 (IMC), the manufacturer unveiled the phone and said that it will be on sale around Diwali. On the JioMart website, the phone is currently advertised with details, nevertheless. YouTube and WhatsApp are among the social media apps that come pre-installed on the JioPhone Prima 4G, a feature phone with an elegant appearance.
With a resolution of 320x240 pixels, the 2.4-inch TFT display of the recently launched Jio Phone Prima 4G is impressive. The phone also has a camera, which includes a 0.3-megapixel front-facing camera, and a torch.
This Jio phone has 512MB of RAM under the hood, and with the use of a micro SD card, it can increase its storage to 128GB. This 4G phone's ARM Cortex A53 CPU powers its KaiOS operating system, which guarantees seamless performance.
Also Read | Apple 'Scary Fast' event: Will tech giant reveal updated iPads and AirPods?
The 1800mAh battery of the Jio Phone Prima 4G offers sufficient capacity to sustain your phone's operation for a considerable amount of time, while Bluetooth 5.0 connection is also included.
Regarding features, the Jio Phone Prima 4G has an FM radio function that is perfect for listening to your preferred stations while on the road. Pre-installed applications on the phone include YouTube, Jio TV, Jio Cinema, Jio Saavn, and Jio News. Additionally, Jio Pay and Cinema are available to consumers for updated functionality.
Meanwhile, Jio SpaceFiber, a satellite internet service from Reliance Jio, offers gigabit speeds to rural parts of India that weren't previously connected to the internet. To access SES's O3b and O3b mPOWER satellites—the only MEO satellites capable of delivering fiber-like internet services from space—Jio has teamed up with the satellite telecommunications provider SES. 
Also Read | Apple employee receives 'award' from CEO Tim Cook after working 10 years | WATCH unboxing video
Last Updated Oct 30, 2023, 5:26 PM IST