Yuvan Shankar Raja backs musical maestro A.R. Rahman in recent Chennai concert row
Yuvan Shankar Raja, in a statement, said that he emphasises the situation and would stand by AR Rahman. He also pointed out that the event producers and organisers should reflect upon this incident. He has backed A.R. Rahman and slammed the event organisers for this unfortunate mishap.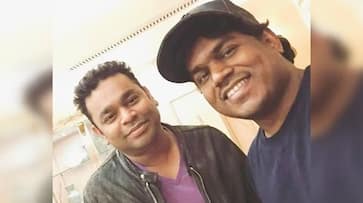 A.R. Rahman is in the news after his 'Marakuma Nenjam' concert in Chennai was on the radar of netizens who brutally slammed him for mismanagement. Yuvan Shankar Raja, a fellow composer in the Tamil film industry, shared a statement in which he extended his support to Rahman. Yuvan Shankar Raja, while supporting A.R. Rahman, has heavily criticised and lashed out at the event organisers and producers without mentioning their names. He said that musicians now need to get involved in planning the concert and ensure safety for women, children and the elderly.
ALSO READ: Kareena Kapoor opens up on Taimur's name controversy; was baffled at the media trial
AR Rahman performed live at 'Marakuma Nenjam' at Adityaram Palace in Chennai on September 10. People with valid tickets weren't allowed inside due to overcrowding. Women got molested. Also, children and the elderly got displaced in the crowd.
Hours after the mishap, Yuvan Shankar Raja took to his social media pages to share his take. He extended his support to Rahman and criticised the organisers.
His post read, "Organising an event of the magnitude of a concert is an immensely complex task, involving numerous moving parts, from logistics and crowd control to traffic management. As unfortunate as it is, mishaps such as overcrowding and other unforeseen problems have happened during concerts of such magnitude. Owing to several reasons. Including organisational missteps. Even with the best intentions, things can go awry, causing intense distress to the people who make our music meaningful - our fans (sic)."
Talking about the event organisers, Yuvan wrote, "It's crucial that event producers and organisers reflect upon this incident. As performers, we place our trust in these producers to ensure that everything runs smoothly and our fans are well taken care of while we are on stage. It is truly disheartening to witness such a situation unfold. It even urges artists, including myself, to take on an active role in the planning & safety measures (sic)."
He gave out his support to Rahman and said, "As a fellow musician, I empathise with the situation and stand by AR Rahman, considering the unfortunate events, especially when the concert was intended to give the fans a memorable night, for all the right reasons (sic)."
ALSO READ: Naseeruddin Shah bashes Sunny Deol's 'Gadar 2' for regressive storyline; takes sly dig - READ
Last Updated Sep 12, 2023, 11:26 AM IST