World Literacy Day 2023: Date, history, significance
World Literacy Day, celebrated on September 8th, commemorates the importance of literacy globally. UNESCO initiated it in 1966, emphasizing literacy's role in empowerment and societal advancement. This day highlights the transformative power of literacy, urging action to ensure universal access to education and literacy skills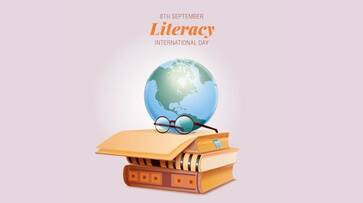 World Literacy Day, celebrated on September 8th each year, is a global initiative that shines a spotlight on the importance of literacy and education in our rapidly evolving world. This day serves as a reminder that literacy is not just a fundamental human right but also a key driver of personal and societal development. 
Date of World Literacy Day
World Literacy Day, celebrated annually on September 8th, is a momentous occasion dedicated to promoting literacy and raising awareness about its importance on a global scale. This date was chosen by the United Nations Educational, Scientific and Cultural Organization (UNESCO) to honor the momentous 1966 World Congress on Literacy. The Congress emphasized the critical role of literacy in empowering individuals and advancing societies. Since then, World Literacy Day has become an opportunity for nations, organizations, and individuals to come together and advocate for universal access to quality education and literacy skills.
History of World Literacy Day 
The history of World Literacy Day traces back to UNESCO's recognition of literacy as a fundamental human right. In 1965, UNESCO launched the World Literacy Program, setting the stage for the first World Literacy Day in 1966. This program aimed to eradicate illiteracy worldwide and marked a significant step in addressing the global literacy crisis. Since then, World Literacy Day has been celebrated annually, focusing on various themes and initiatives to combat illiteracy and promote lifelong learning. It has evolved into a global movement, inspiring countless individuals and organizations to champion the cause of literacy.
The Significance of World Literacy Day
World Literacy Day, established by the United Nations Educational, Scientific and Cultural Organization (UNESCO) in 1966, seeks to raise awareness about the importance of literacy as a tool for empowering individuals and communities. Literacy is the foundation upon which people build their lives. It enables access to information, education, and opportunities, ultimately fostering economic growth, reducing poverty, and promoting social inclusion.
ALSO READ: Krishna Janmashtami 2023 Wishes: Images, greetings, quotes and status for Facebook/Whatsapp to share
Literacy in India
India, home to over a billion people, has made significant strides in literacy over the years. According to the latest available data from 2021, the overall literacy rate in India stands at approximately 77.7%. While this figure demonstrates progress, challenges persist. Gender disparities in literacy remain, with a notable gap between male and female literacy rates. Female literacy hovers around 70.3%, while male literacy is higher at 84.7%. Bridging this gender gap and increasing literacy rates in marginalized communities are crucial goals for India's educational system.
Government initiatives like the National Literacy Mission and the Right to Education Act have played pivotal roles in improving literacy levels across the country. However, more efforts are needed to ensure that quality education is accessible to all, regardless of socio-economic backgrounds.
ALSO READ: Citric bounty: 5 revolutionary benefits of Star Fruit for your Health
Literacy in Asia
Asia, the world's largest and most populous continent, encompasses diverse cultures, languages, and socio-economic conditions. The state of literacy in Asia varies widely among its countries. While nations like Japan and South Korea boast near-universal literacy rates, others face significant challenges.
For instance, Afghanistan, Pakistan, and parts of Southeast Asia have lower literacy rates due to factors such as political instability, limited access to education, and poverty. Conversely, countries like China and India have made significant strides in improving literacy, but regional disparities persist within these nations.
World Literacy Day serves as a platform for Asian countries to share experiences and best practices in tackling literacy challenges. International organizations and governments continue to collaborate to ensure that all individuals in Asia and beyond have the opportunity to acquire essential literacy skills, fostering personal growth and contributing to the region's overall development.
World Literacy Day 2023 underscores the critical role of literacy in shaping our world. As we celebrate the progress made, it is also a reminder of the work that remains to be done to ensure equitable access to education and literacy for all, both in India and throughout Asia. Literacy is not merely a skill; it is a pathway to empowerment, enlightenment, and a brighter future for individuals and societies alike.
Last Updated Sep 8, 2023, 7:30 AM IST