World Cup 2023: Here's why netizens warn Amitabh Bachchan not to watch the final match
Last night, Amitabh Bachchan took to his X account to share that whenever he does not watch the Indian cricket team play, they win the match.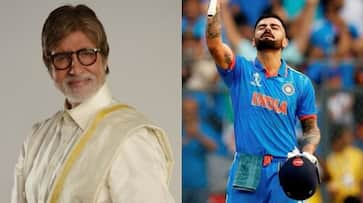 Bollywood superstar Amitabh Bachchan has been warned by netizens after the 81-year-old revealed on social media after that the Indian cricket team always wins when he does not watch a match. Amitabh posted this on his official X account minutes after Team India defeated New Zealand in the ICC World Cup semi-final on Wednesday. 
Amitabh Bachchan's post
He wrote, "When I don't watch, we WIN!"
Netizens reaction
Soon after this people replied to his tweet asking him not to watch the World Cup final on Sunday and also shared some fun memes.
World Cup semi-final
Meanwhile, several celebs attended the World Cup semi-final play in Wankhede stadium on Wednesday, including Ranbir Kapoor, John Abraham, Kiara Advani, Rajinikanth along with his wife, Sidharth Malhotra, Shahid Kapoor, Anushka Sharma, Shahid Kapoor, Kunal Khemu, Soha Ali Khan and Vicky Kaushal.
The semi-final was between India and New Zealand where India won by 70 runs and entered the finals. Virat Kohli scored his 50th One Day International century and surpassed Sachin Tendulkar's record of 49 centuries. 
Last Updated Nov 16, 2023, 8:28 AM IST