Will Rashmika Mandanna bid goodbye to Kannada industry that gave her the first big break?
South actress Rashmika Mandanna is in the peak of her career as she has become the preferred actress in the Telugu film industry. The actress, who acted in 10 films so far, is now playing lady love for Nithin in Bheeshma that is making waves in Tollywood. Soon, she will debut in Kollywood too.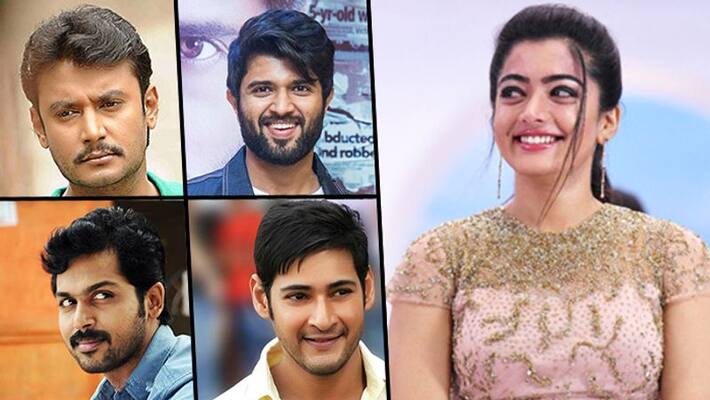 Karnataka's noted actress Rashmika Mandanna, who made her debut on the silver screen with Rakshi Shetty's Kirik Party, seems flooded with offers from other industries than Sandalwood. 
Mandanna, who has acted in 10 films so far, has done six Telugu films as against 4 in Kannada cinema.
Mandanna made her Telugu debut with Chalo, directed by Venkua Kudumula, and impressed the Tollywood industry so much that she was paired opposite Telugu star Vijay Devarkonda in Geetha Govindam. The movie made good box office collection and later, Mandanna bagged the Film Fare Award in the critics category.
The box office collection and awards further cemented her position as a preferred actress in Telugu cinema and hence was chosen by Anil Ravipudi, who cast her opposite Price Mahesh Babu in Sarileru Neekavvaru, which turned out to be a smashing hit.
Although she has films like Poguru, which is in the production stage, she would soon join the Tamil film crew for Sultan starring opposite Karthi Shivakumar.
Looking at the offers she is bagging from thr Telugu and Tamil industries, seems like she will remain busy and may not be able to make her presence felt in Sandalwood.
Mandanna's filmography
2016- debuted with Krik Party-Kannada
-Anjani Putra- Kannada
2017-Chamak- Kannada
-Chalo-Telugu debute
2018-Geetha Govindam- Telugu
-Devadas-Telugu
2019-Yejamana-Kannada
Dear Comtrade-Telugu
2020-Sarileru Neekavvaru-Telugu
Bheeshma-Telugu
Last Updated Feb 21, 2020, 10:53 AM IST