Why is Pakistani model Erica Robbin facing backlash from her own countrymen; Read details
Ericica Robin, Pakistan's first Miss Universe contestant, faces backlash for breaking beauty pageant norms in a Muslim-majority country but aims to challenge stereotypes and change perceptions about Pakistan. Mixed reactions reflect a complex societal shift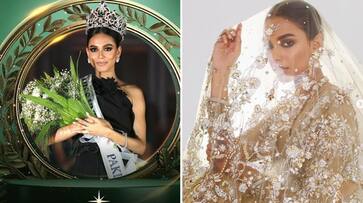 Ericica Robin, a Christian hailing from Karachi, has been selected as Miss Universe Pakistan, marking a significant milestone in the country's history. Her selection has ignited a wave of both criticism and support, underscoring the complexity of her representation.
In Pakistan, beauty pageants are a rarity, and they are viewed by some as contradictory to the cultural norms and values of the predominantly Muslim nation. This has led to a segment of the population expressing disapproval and discomfort with Erica Robin's participation in the Miss Universe pageant.
However, Erica Robin's ambitions extend beyond personal recognition. She aspires to challenge stereotypes and alter the perception of Pakistan as a backward nation. Her participation represents an opportunity to present Pakistan in a different light and counteract preconceived notions about the country. By entering the Miss Universe competition, she seeks to break boundaries and promote a more inclusive image of Pakistan.
The backlash she faces is significant, but it is met with an equal measure of support. Many people, including models, writers, and journalists, have extended their congratulations to Erica Robin, appreciating her beauty and intelligence. Her journey is a testament to the power of individual determination and the potential to reshape narratives about one's country.
ALSO READ: Kalki 2898 AD: Amitabh Bachchan's enigmatic FIRST character look unveiled on his birthday
The upcoming Miss Universe finals in El Salvador in November will provide Erica Robin with a global stage to showcase not only her personal qualities but also the diversity and resilience of Pakistan. Her journey may serve as a catalyst for change, challenging societal norms and perceptions along the way.
Last Updated Oct 12, 2023, 11:11 AM IST