Kalki 2898 AD: Amitabh Bachchan's enigmatic FIRST character look unveiled on his birthday
In celebration of his birthday, the creators of the much-anticipated movie 'Kalki 2898 AD' have presented the world with the first look of the legendary actor, Amitabh Bachchan. The revelation of his appearance has ignited a fervent online buzz.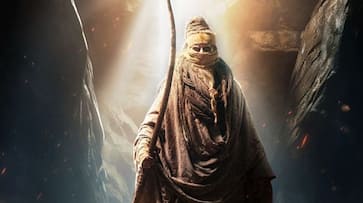 Celebrated as one of the most highly anticipated film releases of 2024, 'Kalki 2898 AD' has managed to generate substantial excitement among cinephiles ever since its initial announcement. Following the grand teaser debut at the San Diego Comic-Con earlier this year, this mega-budget production has garnered widespread acclaim on a global scale. To commemorate Amitabh Bachchan's 81st birthday today, the creators of 'Kalki 2898 AD' have chosen to unveil the official first glimpse of the actor in the film.
Amitabh Bachchan's first look in the film gives off an aura of intensity and intrigue, instantly sparking fervent discussions on the internet. Fans and movie enthusiasts alike are effusive in their admiration of the actor's remarkable versatility, with his hitherto unseen appearance leaving them eager for more.
The production team, in revealing this captivating look, conveyed their profound respect with the message: "It's an honor to be part of your journey and witness your greatness. Happy Birthday Amitabh Bachchan Sir"

Directed by Nag Ashwin, 'Kalki 2898 AD' features an ensemble cast including Amitabh Bachchan, Kamal Haasan, Prabhas, Deepika Padukone, and Disha Patani in pivotal roles. Notably, 'Kalki 2898 AD' is a multilingual cinematic masterpiece, financed by Vyjayanthi Movies, which is commemorating its 50th year in the Indian film industry. The film is poised to be an awe-inspiring sci-fi extravaganza, infused with elements of mythology and set in a futuristic backdrop.
ALSO READ: Amitabh Bachchan turns 81: Bomani Irani posts sweet video wishing dearest friend on social media - READ
Last Updated Oct 11, 2023, 4:49 PM IST