Watch: When Shoaib Akhtar broke silence on his 'love story' with Sonali Bendre, Dia Mirza
Former Pakistan fast bowler Shoaib Akhtar was reportedly in love with Sonali Bendre and was also to marry Dia Mirza. Was there any truth in such stories? Akhtar had once spoken about those controversies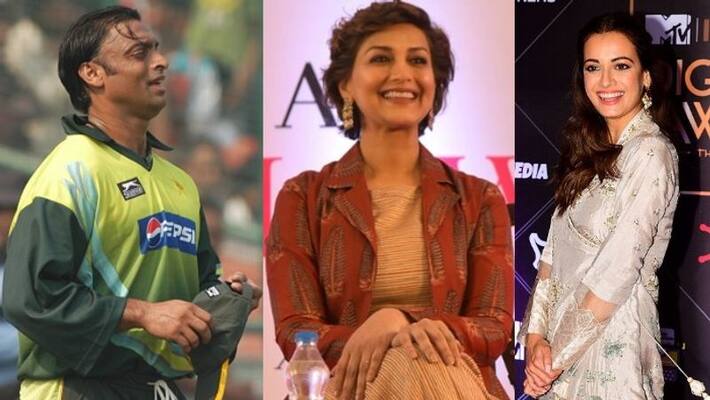 Bengaluru: There was a time when Pakistan fast bowler Shoaib Akhtar was linked with Bollywood actresses Sonali Bendre and Dia Mirza. Following controversial stories, the paceman himself had to break silence and clarify.
It is not new for cricketers and film stars to be linked in one way or the other. Akhtar, who was one of the fastest bowlers of his time, is now retired and often talks about the game on his YouTube channel.
Also read: List of cricketers who have donated to PM CARES Fund
Akhtar recently spoke and said India and Pakistan should play three ODIs to help raise money for the novel coronavirus (COVID-19) relief efforts. This, however, was not supported by Indian legend Kapil Dev who felt there was no need for money.
It was in June last year that Akhtar opened up about the speculations over his relationships with Sonali and Dia. Several media houses had reported that Akhtar was in love with Sonali and carried her picture in his wallet during his playing days.
Also read: Here is how 'big brother' Anil Kumble helped Pakistan legend
On his YouTube channel on June 18, 2019, Akhtar had said, "I was never a fan of the Indian actress Sonali Bendre. I only watched a few of her movies. Yes, I admired her courage during her battle against cancer. I considered her as a role model for many others in the world who are faced with difficult situations. Looking at her struggles with cancer and the way she fought it, that time I became her fan. She was leading the way for other women showing how you can overcome any difficulty."
He added, "I never had any relationship with her. Talking about keeping photographs, I only had Imran Khan's picture in my room. I have never kept anybody else's picture with me. I did not idolise any other cricketer other than Imran Khan. Some media houses have unnecessarily linked me with Sonali Bendre and Dia Mirza."
Under Imran's captaincy, Pakistan won the 1992 World Cup in Australia, beating England in the final. Now, Imran is the Prime Minister of Pakistan.
Akhtar, who is known as "Rawalpindi Express" also clarified that he had never met Sonali. On Dia, he said there were rumours of him getting married to Dia. He said he had never met her too. He had also urged his fans not to believe in such rumours.
Last Updated Apr 13, 2020, 1:21 PM IST