VIDEO: Samantha Ruth Prabhu's expensive walk-in closet has, Louis Vuitton to Gucci to Prada
Samantha Ruth Prabhu took expert help in getting rid of unwanted clothes, shoes from her expensive walk-in closet; take a look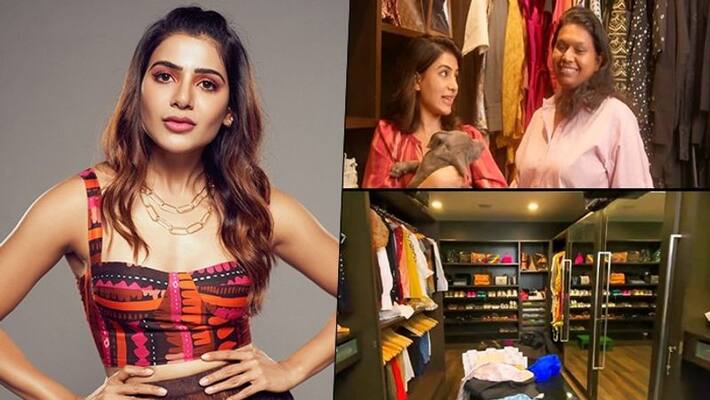 Actress Samantha Ruth Prabhu recently shared some amazing pictures and videos from her Dubai trip where she took part in Dubai Expo 2020. She went with her friends Preetham Jukalker and Sadhna Singh, had some yummy food and went to some amazing places in Dubai. Sam shared pictures of the skyscrapers to the nightlife of the city. Samantha also has a tour of the hotel that she is staying in and her boat ride at night. A few hours ago, she gave a tour of her super expensive freshly-organised closet. Yes, she has a big walk-in closet with is filled with some expensive bags, dresses and shoes.
To organise it she took professional help and got rid of clothes, shoes that she didn't need anymore. Samantha shared the video on Instagram with organising expert Marie Kondo's quote, "Letting go is even more important than adding." In the video, Samantha said, "Half of my closet doesn't exist anymore. There is some magic in tidying up. Every time I am low or stressed or upset I like to clean. So I don't know there is some connection."  'Rohini Rajagopalan, certified professional organiser and Founder Organize with Ease' has helped the actress with her closet.
Samantha also said in the video that, "people have a big problem letting go" of their stuff and ask her how she overcomes them to get rid of their things. In the clip, she is seen holding her baby Sasha, a pitbull puppy. 
Before leaving for Dubai with friends, Samantha visited Rishikesh with a business partner and friend, Shilpa Reddy. Both did Char Dham Yatra in fashion. Char Dham Yatra includes Gangotri, Kedarnath, Yamunotri, and Badrinath in Uttrakhand. It is also said that Samantha has reportedly deleted around 80 pictures and videos with ex-Naga Chaitanya post her divorce. Yes, break-ups can be very hard. 
Last Updated Nov 1, 2021, 10:07 AM IST