Victoria Beckham's insights on husband David Beckham's alleged affair in exclusive Netflix documentary; Read
Victoria Beckham discusses David's alleged affair in Netflix doc, revealing her inner turmoil, resentment, and their journey to enduring love after 24 years of marriage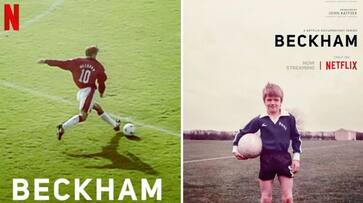 In an upcoming Netflix documentary titled "Beckham," Victoria Beckham opens up about her husband David Beckham's alleged infidelity, shedding light on their journey through a challenging period when their marriage was put to the test.
Victoria Beckham, who tied the knot with David Beckham in July 1999, reveals that the time of the alleged affair was the most emotionally trying period in her life. She acknowledges harboring deep-seated resentment towards David amid the cheating allegations. Despite her inner turmoil, Victoria explains that she chose to internalize her trauma in order to provide unwavering support for her husband's soccer career. She was acutely aware of the intense scrutiny and pressure he was under during that time, and she felt it was her duty to stand by him. She candidly admits, "It was the hardest period because it felt like the world was against us. Here's the thing - we were against each other, if I'm being completely honest."
David Beckham, a prominent footballer, was playing for Real Madrid in Spain in 2003 when the alleged infidelity scandal emerged. During this tumultuous period, Victoria remained in the UK with their children, Brooklyn and Romeo. While the names of those involved in the scandal were not explicitly mentioned in the documentary, Rebecca Loos and Sarah Marbeck had previously claimed to have had affairs with David. As news of these allegations spread, Victoria made the difficult decision to relocate to Spain to support her husband during this lonely and challenging phase. She recollects feeling as though the entire world was pitted against them, and the strain it placed on their relationship was undeniable. She shares, "But when we were in Spain, it didn't really feel like we had each other either. And that's sad. I can't even begin to tell you how hard it was and how it affected me."
Victoria Beckham's candid revelations in the documentary offer a glimpse into the complexities of their marriage during the trying times of David's alleged affair. She speaks openly about how the situation felt like a circus, with the world watching as they endured immense hardship. David Beckham also reflects on the challenges they faced and the determination required to protect their family unit. Despite the ordeal, their love endured, leading to the expansion of their family with the birth of their son Cruz in 2005 and daughter Harper in 2011. Now, after 24 years of marriage, this power couple stands as a testament to resilience and unwavering love.
ALSO READ: The Archies: Khushi Kapoor reflects on how she bonded with Suhana Khan, Agastya Nanda and other co-stars
Last Updated Oct 5, 2023, 2:40 PM IST