The Archies: Khushi Kapoor reflects on how she bonded with Suhana Khan, Agastya Nanda and other co-stars
Khushi Kapoor discusses her character Betty in "The Archies" and how she bonded quickly with co-stars, emphasizing similarities between herself and Betty. The film, a coming-of-age musical, premieres on Netflix on December 7, directed by Zoya Akhtar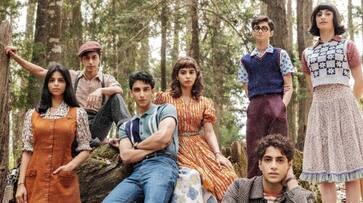 Khushi Kapoor, who is set to make her debut in Zoya Akhtar's highly anticipated film "The Archies," recently opened up about her character and bonding with her co-stars. The film is scheduled to premiere on December 7th on Netflix and features a talented ensemble cast, including Suhana Khan, Agastya Nanda, Aditi 'Dot' Saigal, Mihir Ahuja, Vedang Raina, and Yuvraj Menda.
Khushi Kapoor portrays the character of Betty in "The Archies," and in a recent interview at the India Today Mumbai Conclave 2023, she discussed the similarities between herself and her on-screen character. She was asked if she is similar to Betty in real life, to which she responded, "I'd like to think so. I think we were cast because there was so much of us that we had in our characters. There's a lot about Betty that I see in myself as well, and I think I found that out the more I played her. I think she is very sweet and empathetic but is also sensitive sometimes. And she is really caring, but sometimes she can tend to put other people's needs ahead of hers. So, I think I kind of identified with certain parts of her a lot the more I played her."
ALSO READ: Aishwarya Rai stuns at red carpet; takes stand against street harassment in Mumbai
Khushi Kapoor also talked about how quickly she bonded with her co-stars on the set of "The Archies." When asked about the time it took to establish a rapport with her fellow actors, she mentioned that it didn't take much time at all. They spent a lot of time together during the film's preparation, which helped them bond naturally. Khushi explained, "We were forced to spend so much time together, and just going through the same experience made us bond so much. I think especially doing acting workshops together made us open up and be vulnerable with each other. I think towards the end of the shoot we were just kind of moving in a small herd everywhere together."
"The Archies" is a coming-of-age musical that explores the lives of iconic characters such as Archie, Betty, Veronica, Jughead, Reggie, Ethel, and Dilton. Set in the fictional hilly town of Riverdale and seen through the lens of the unique Anglo-Indian community, the film delves into themes of friendship, freedom, love, heartbreak, and rebellion.
Directed by Zoya Akhtar, "The Archies" is produced by Akhtar and Reema Kagti under their home banner, Tiger Baby Films. Fans can look forward to its premiere on Netflix on December 7th, 2023.
Last Updated Oct 5, 2023, 12:10 PM IST