'Tiger 3', 'The Marvels' set for diwali release; promises double action bonanza for movie lovers
Get ready for an epic cinematic showdown this Diwali as 'Tiger 3' and 'The Marvels' hit theaters on November 10th. Salman Khan returns as a RAW agent in 'Tiger 3,' while 'The Marvels' brings Marvel superheroes. It's an action-packed double bonanza that promises to set screens on fire and hearts racing, making this Diwali a memorable celebration of storytelling and film magic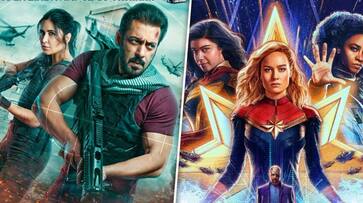 In the eagerly awaited cinematic faceoff, Diwali 2023 promises an electrifying clash of titans as both 'Tiger 3' and 'The Marvels' gear up for a November 10 release. Action enthusiasts and film enthusiasts are in for an adrenaline-fueled treat this festive season. Salman Khan and Katrina Kaif reprise their iconic roles, driving 'Tiger 3' into the limelight, while 'The Marvels' presents a superhero extravaganza, setting the stage for an action-packed double bonanza.
'Tiger 3,' the next installment in the successful 'Tiger' franchise, brings a compelling blend of high-octane action and a riveting storyline. This spy thriller promises to keep audiences on the edge of their seats with the new teaser out, showcasing Salman Khan in his element as a skilled RAW agent. On the other hand, 'The Marvels' is a much-anticipated addition to the Marvel Cinematic Universe, featuring beloved characters and a world of spectacular superheroes. The clash between these two cinematic powerhouses ensures a Diwali celebration like no other—a collision of action, drama, and a double dose of entertainment that will set screens ablaze and hearts racing this Diwali.
As the fireworks light up the sky during Diwali, the real fireworks will be on the silver screen, with 'Tiger 3' and 'The Marvels' engaging in a box office duel. This clash is a celebration of the art of storytelling and the passion of filmmakers. Moviegoers can anticipate an unforgettable cinematic experience, making this Diwali a truly memorable celebration, embracing the magic of film and the thrill of heroes and adventures on the big screen starting 10th November in theatres near you.
ALSO READ: Shah Rukh Khan Vs Prabhas: King Khan unperturbed by epic clash of 'Dunki', 'Salaar'; here's what he said
 
Last Updated Sep 27, 2023, 6:27 PM IST