Shah Rukh Khan Vs Prabhas: King Khan unperturbed by epic clash of 'Dunki', 'Salaar'; here's what he said
Shah Rukh Khan's upcoming film "Dunki," directed by Rajkumar Hirani, is generating excitement with the actor's updates. Shah Rukh threw some light on it in his #AskSrk session. 'Dunki' is supposed to clash with Prabhas starrer 'Salaar'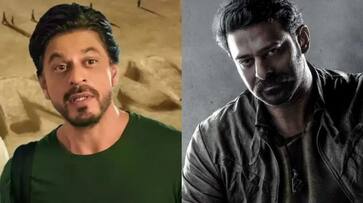 Shah Rukh Khan, currently riding high on the success of "Jawan," has created quite a buzz with his upcoming film "Dunki," directed by the acclaimed Rajkumar Hirani. During a recent interactive session with fans on his social media handle, the superstar shared some exciting updates about the highly anticipated project.
One enthusiastic fan posed the question, "#AskSRK how is Dunki shaping up sir ji," to which Shah Rukh Khan responded with enthusiasm, saying, "#Dunki is done and very beautiful. A little like life itself!!" This snippet of information has left fans eagerly anticipating what promises to be an intriguing cinematic experience.
Fans weren't satisfied with just that tidbit and sought more details, with some inquiring about the release of the "Dunki" teaser. Shah Rukh Khan remained tight-lipped on that front, keeping fans in suspense. Another fan, perhaps fueled by the energy from Shah Rukh Khan's recent action-packed films like "Pathaan" and "Jawan," asked if there would be any action sequences in "Dunki." In response, SRK humorously commented, "#Dunki is all funny and emotional. It's Raju sirs world mere bhai. Thoda sa action maine daal diya hai…pata nahi sir rahein na rakhein….woh editor bhi hain na!!!" This witty remark hinted at the film's unique blend of humor and emotion, with a dash of action for good measure.
Notably, Boman Irani, who is also part of the "Dunki" cast, expressed his excitement for the project. He described it as "bohot hi unusual subject hai" (a very unusual subject) and drew a favorable comparison to Rajkumar Hirani's previous works, suggesting that "Dunki" could be even more entertaining and thought-provoking. Boman Irani's endorsement adds to the growing anticipation surrounding the film.
Meanwhile, an interesting clash is on the horizon for this Christmas season, as Shah Rukh Khan's "Dunki" and Prabhas' "Salaar" are rumored to be releasing around the same time. Trade expert Taran Adarsh took to social media to share this exciting development, stating, "YES, IT'S TRUE… SRK VS PRABHAS, 'DUNKI' VS 'SALAAR' THIS CHRISTMAS… The exhibitors have received a mail stating that #Salaar will arrive THIS CHRISTMAS [on 22 Dec 2023]… An official announcement by the producers, #HombaleFilms, will be made on Friday [29 Sept 2023]." This clash of two highly anticipated films has certainly piqued the curiosity of cine-goers.
ALSO READ: Kangana Ranaut papped at Mumbai airport; speaks about her playful hide-and-seek game with paparazzi
Last Updated Sep 27, 2023, 5:51 PM IST